Where: Alaçatı, Türkiye 🇹🇷
"A little gem," I thought to myself as I left the residence I had just started renting in Alaçatı, Türkiye.
Alaçatı, along with its neighbouring community to the west, Çeşme, are resort towns on the northern side of a long peninsula on the western coastline of the Anatolian Peninsula. I visited the area last year and it stood out so much that I chose to come back on my way from İzmir (the country's second largest city) to the Greek island of Chios on Saturday.
Several things were distinctive about the unit: the third-storey terrace that gave a stretching view of the area; the residence's delightful use of light-blue & white paint colouring (very Mediterranean); the residence's building was situated within the demarcated bounds of Alaçatı's charming & rustic downtown; and distinctive elements of its bawn (enclosed courtyard) that I observed upon arrival: Trees, including two olive trees; a baby cat lying comfortably on a bench; & a smart-looking white Vespa moped parked in front of a shed.
It was on inspecting and taking photos of the courtyard that the host of the property, Olcay Gimici, exited the shed and we began talking.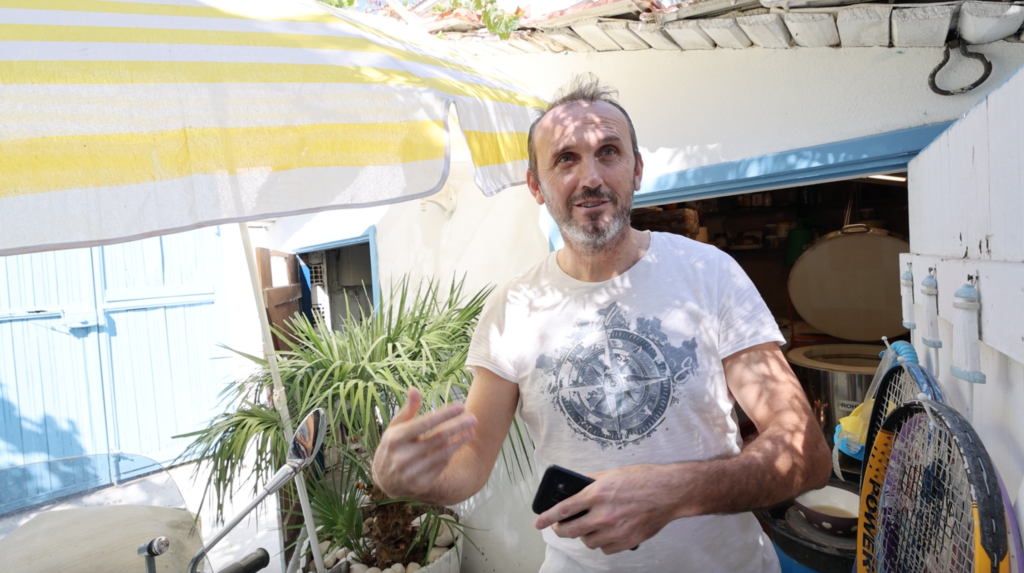 Above Olcay speaks about the history of his family's property
"My grandfather, my grandmother, came from Thessaloniki, from Greece" said Olcay. "100 years ago."
He continued. "First World War in 1920. The Greek people lived here 100 years ago. They went to Greece. And the Thessaloniki Turkish people came here. For the First [World] War."
I clarified if this was during the Ottoman Empire Period and Olcay confirmed such. In modern history, Türkiye and most of what would be present day Greece were all under the same state-administration—The Ottoman Empire. So travel to and from the present day countries of Greece & Türkiye was considered travelling within the same country. In 1923, the Ottoman Empire ceased operating and the Republic of Türkiye was formed; three years after his grandparents arrived in Alaçatı.
Olcay went on to explain that when his grandparents arrived in 1920 they bought the residence.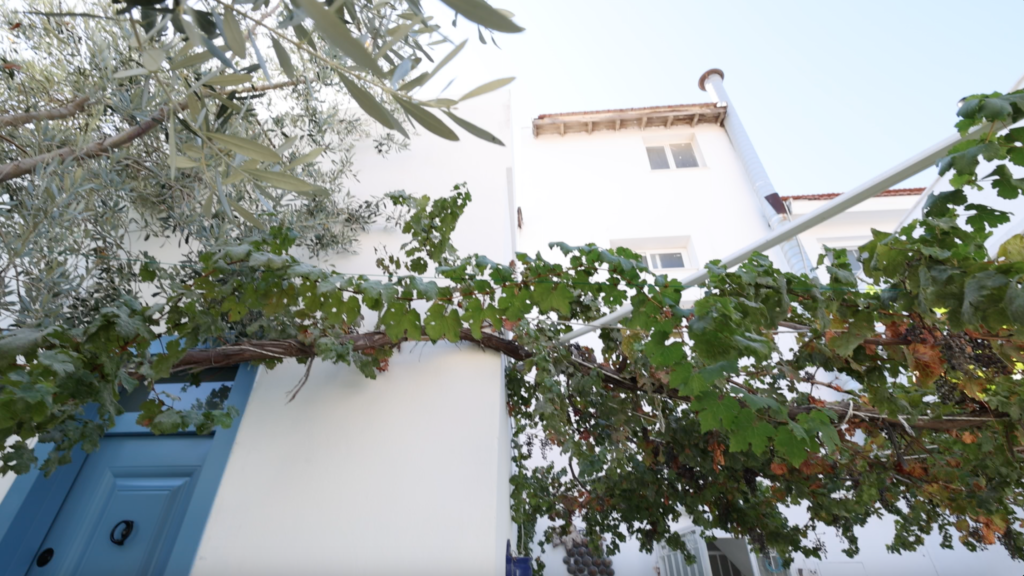 A photo of the residence on September 13, 2023
Before he noticed me in the courtyard, Olcay was in his shed making pottery.
"Wow! You made all this?" I exclaimed when I saw dozens of smart & clean looking pieces on shelving.
"Yes", he replied.
"Do you sell them?" I asked.
"Yes, in Alaçatı."
A video of Andrew Schiestel and Olcay Gimici speaking about his pottery work
Before I parted for a stroll around town, we took a moment to look at the trees. In the courtyard were two olive trees and two "Mastic" trees, as Olcay described. "[In Chios] it is a very famous tree." He pointed out that the resin from these trees are put in coffee to sweeten it and used for baking cookies. It provides a floral flavour to such activities.
The day was sunny, the sky was clear, and the weather was breezy. I left for a scenic & enjoyable afternoon stroll through Alaçatı. Olcay went back to creating more ceramic cups for his business. His ceramic pottery business is called OG Ceramic Studio and can be found on Instagram. And at his residence, he rents out the top & main floors on Airbnb while he lives with his family including his parents on the middle floor.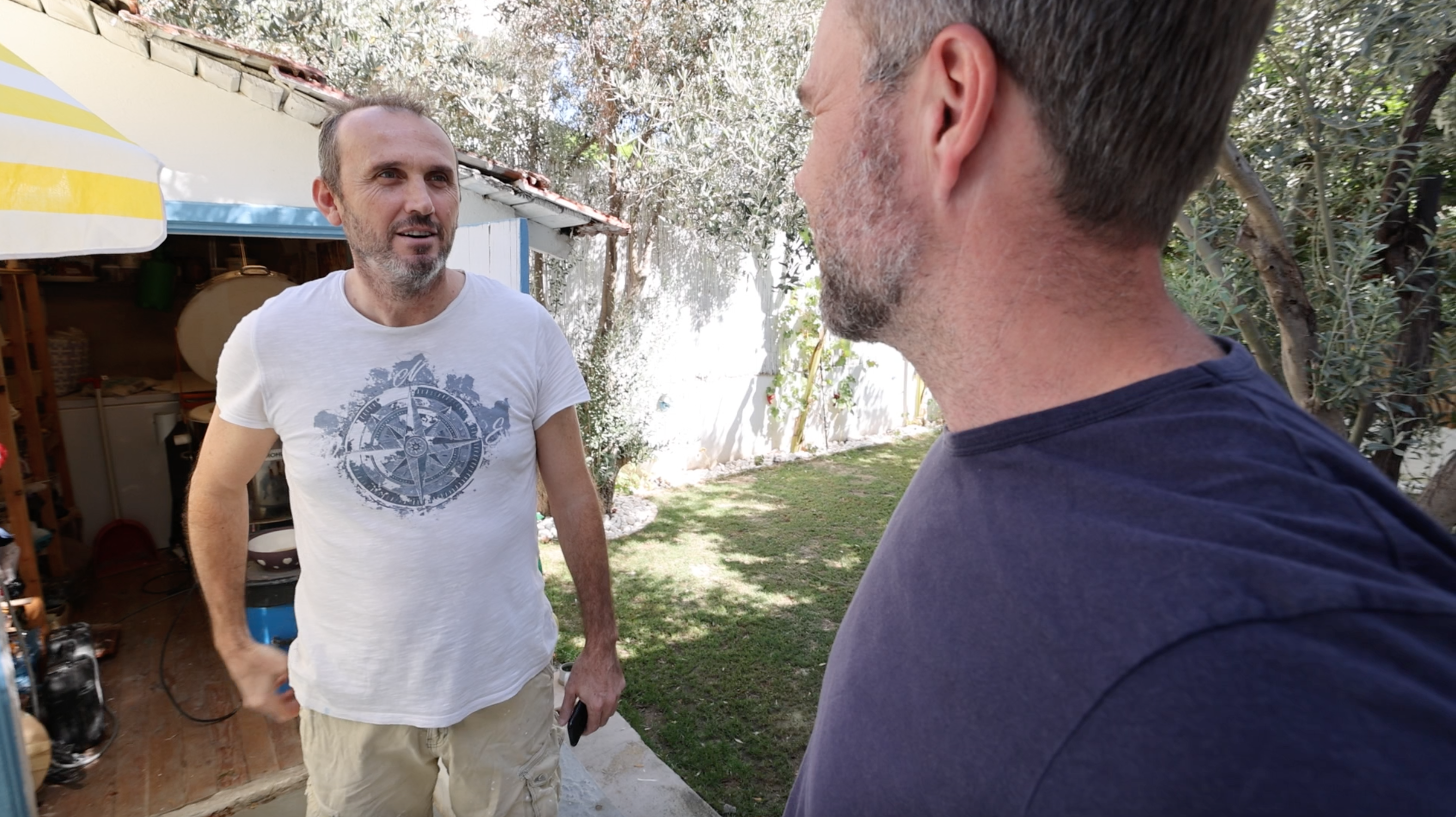 Olcay Gimici & Andrew speaking in the courtyard of Olcay's residence in Alaçatı on September 13, 2023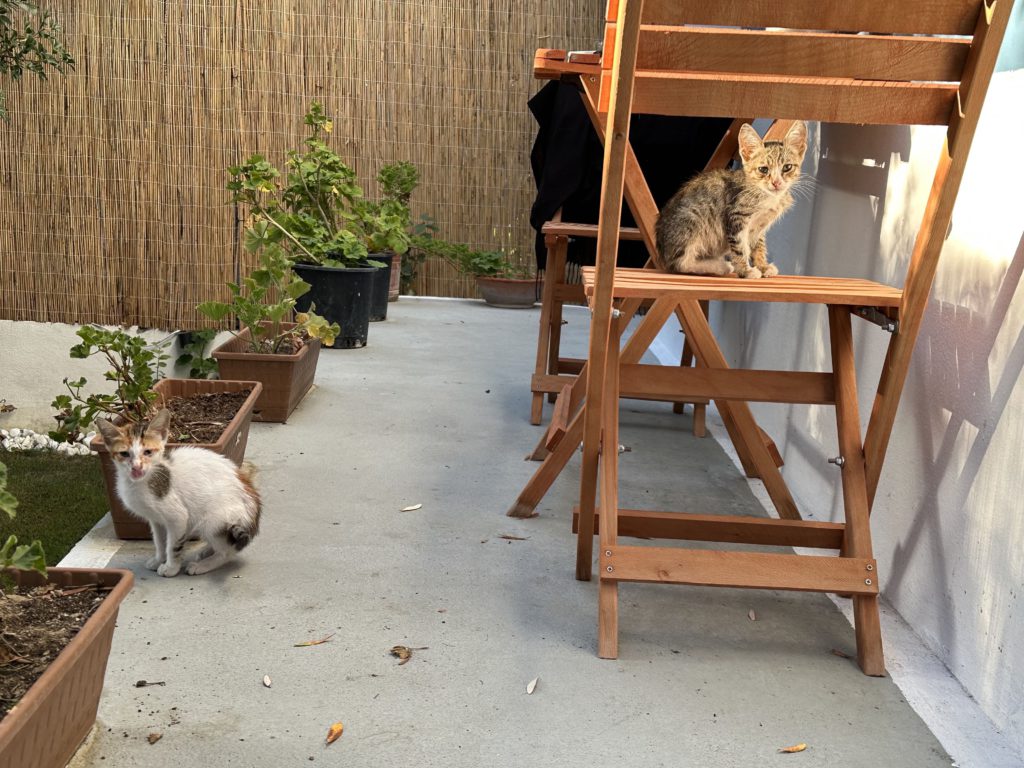 Two kittens that live on Olcay's property