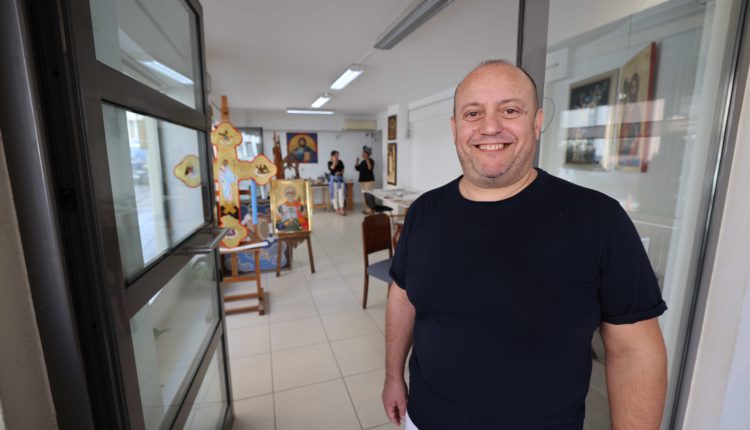 Making holy art in Crete 🇬🇷
Where: Rethymno, Crete, Greece 🇬🇷
There was a cross that was to go to a monastery in northern Crete, a restoration of a significant Renaissance Orthodox painting under production, and colourful stones being laid into a mosaic that would soon become floor tile in a monastery. The scene begged some questions.
"Do you want to see the cross?" artist Irene Gkoudaropoulou said to me as her and proprietor of the workshop & art conservator, Emmanouel (Manolis) Roukoudis, explained what the workshop does.
"The order is from the monastery of Preveli," Irene explained of the customer who commissioned the cross piece that stood on display at the front of the workshop.
We then got to a portrait of a male holy figure. Irene & Manolis detailed a complicated procedure to create the aureate piece.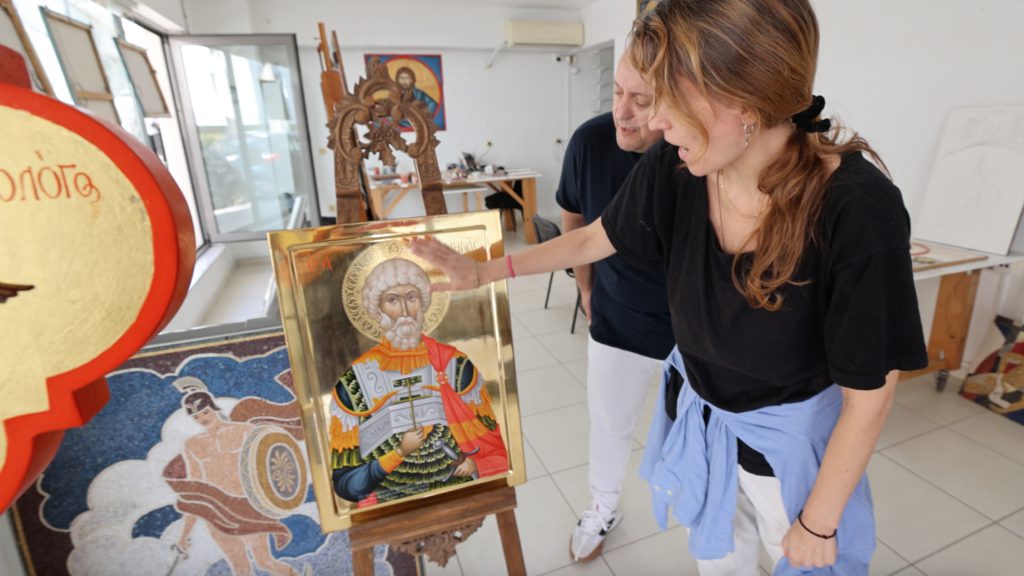 Artist Irene Gkoudaropoulou and artist & workshop proprietor Manolis Roukoudis explain how they made a hagiographic piece of artwork.
The workshop, owned by artist & art conservator, Emmanouel (Manolis) Roukoudis, is regularly commissioned by Christian organizations (the ones mentioned during the visit were Orthodox) and private collectors to create or restore pieces of artwork.
"There [are] persons or monasteries in Crete or people all over the world," Irene explained when asked about the types of customers that patron the workshop for hagiography and mosaic art. Hagiography is a type of art that purposefully idolizes a figure—it's a common form of art in religious contexts.
The work I want to do in my life
There were memories Manolis had of being 12 years old beginning to draw, but it was working at a monastery in Preveli (in southern Crete) eight years later that would be the inception point for his vocation.
"He was 20 years old," Irene said translating her colleague as he told the story. "He was working at Monastery Prevali. He was meeting with a team of restorers. He liked this work."
As the story goes, Manolis was working for the Monastery of Prevali at the time. He was on a scaffold doing artist work and one of the art restoration vendors approached him who was impressed by his work. Manolis recognized, "It was inside him" and that, "This is the work I want to do in my life."
He would soon after begin to study classically to become an artist: first learning mosaics and then painting. Now seasoned in his career, he runs his own workshop working with his own team of artists—people like Irene—and further operates a school that trains artists on mosaic creation.
And in a full circle of sorts, where Manolis was first introduced to the professional world of art—the Monastery of Prevali in southern Crete—is now the customer that the cross (cited above) was commissioned by.
A historical art figure runs in the family
As I walked by the studio on my way back to my residence that I rented for a few nights in Rethymno, it was a painting that Irene was restoring that I first saw when I walked into the workshop that had more historical relevance at the workshop than meets the eye.
Irene was in the middle of a painting restoration project of the popular Christian parable of St. George slaying a dragon, this one by esteemed 19th century Cretan artist, Ioannis Stathakis.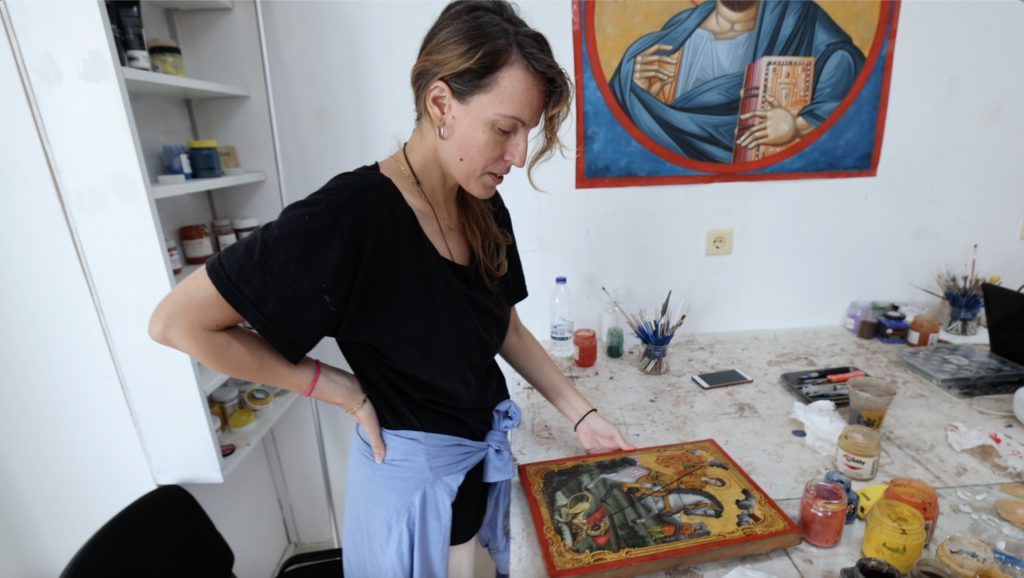 Irene Ghoudaropoulou speaks about a 19th century Renaissance Orthodox painting that she and the workshop are restoring.
"Stathakis is from here" Irene said of the artist. "from Rethymno."
I went onto a different topic about the painting and Manolis spoke up, first speaking to Irene in Greek. As it would turn out Ioannis Stathakis is the great-grandfather of Manolis, something Manolis obviously didn't want overlooked in the conversation accidentally.
"Grand, grandfather [is] Stathakis," Manolis said.
"Your great-grandfather is the original artist of this painting?" I asked to make sure I was clear about what was being communicated.
"Yes," Manolis responded.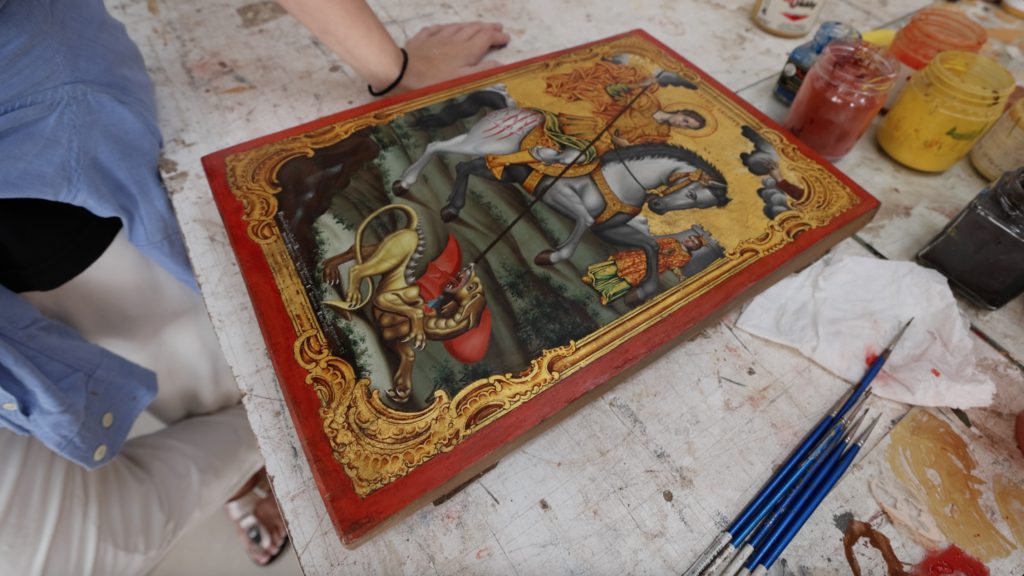 A painting of the famous Christian parable of Saint George slaying a dragon, by 19th century Cretan artist, Ioannis Stathakis. This painting was currently under restoration at the workshop.
The school
In addition to creating original works of art, restoring paintings and creating mosaics for clientele, the workshop also runs a mosaics school at a different location in the city.
Mari Cristine Bellon was one such student.
Born and raised in Normandy, France, Mari was currently under the mentorship of Manolis. As most of the visit occurred, Mari remained steadfast on a project—constructing a colourful mosaic using stone, granite and marble sourced from different parts of Greece.
"I've done [mosaic creation] in France, but it's not like [this]. This mosaic is extraordinary." Mari commented on the quality and complexity of the project she was working on.
"It's more complicated," Marie went on. "But it's very very interesting for me, I love that, it's beautiful," After sharing her thoughts she looked down at the mosaic with deep appreciation and then looked back at me. Her eyes had watered. Her words were felt.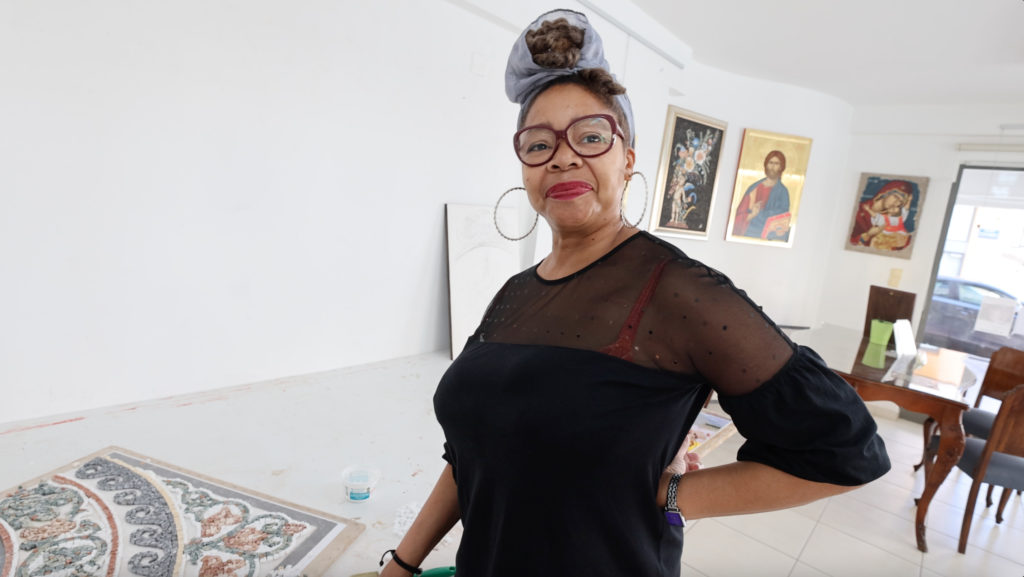 Mari Cristine Bellon speaks about the complexity of the mosaic work that she was doing—Something that she was very passionate about and enjoyed.
The mosaic was actually one of four parts that would be amalgamated and installed as floor tile in a local monastery.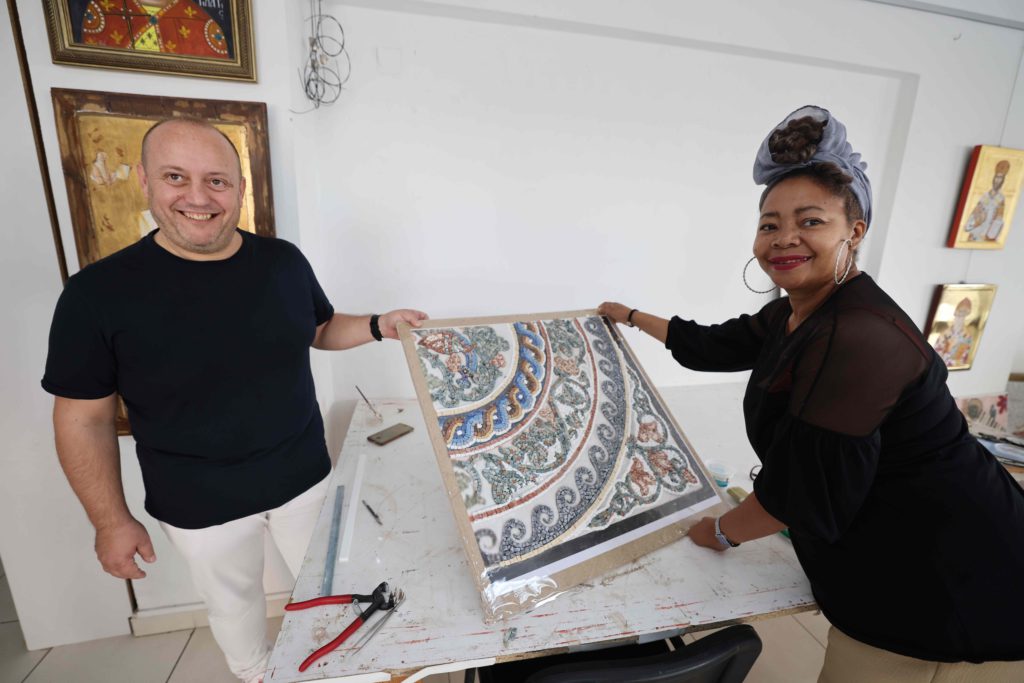 From Normandy, France, Mari Christine Bellon is a mosaics artist and student at the workshop. Only five days into her tenure & studies in Rethymno, she was building a detailed mosaic that was commissioned by a monastery on the island.
The three parts of the studio
At one point during the visit Manolis brought up, as he saw it, three parts to his studio: Restorations, mosaics, and training students. Although it wasn't directly said, the implication of the Holy Trinity dawned on me after the visit. The three parts that his studio offers is an approach that he described can lead to being a "full" and "complete" artist.
The descendent of an iconic Cretan painter, Manolis Roukoudis is full of talent and spirit, running a hagiography & mosaics workshop and school in the northern Cretan city of Rethymno that caters to Christian organizations and private collectors on the island and abroad.