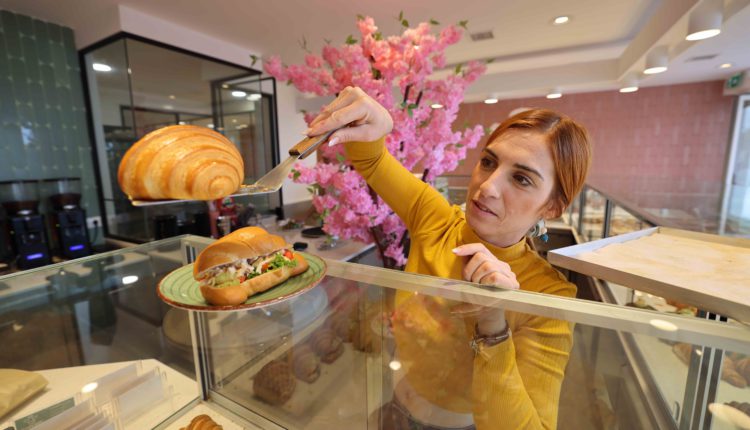 Making the perfect croissant in northern Crete 🇬🇷
Where: Rethymno, Crete, Greece 🇬🇷
I only walked in for an Americano.
But it was the size and form of an array of croissants on display that had me order one.
Simply put, the croissant, that had a chocolate or hazelnut filling, was flawlessly created. I had never tasted a croissant that had better form: Formidable in size, a cavity full of filling, and nearly mesmerizing to look at.
I was at a bakery along the corniche in the Cretan city of Rethymno in Greece.
"She was born in the bakeries," Katerina Kousidou said, translating her boss, Theodora Nikolidaki, as the three of us began speaking about the croissants and the bakery.
"My grandfather started [a bakery] and then my parents followed this," Theodora shared of her family.
Theodora was born into a baker's family of three children. Her parents, Maria & Konstantinos Nikolidaki—who both are deceased—ran, at one point, three bakeries. They started their first bakery in the nearby village of Kavros about fifty years ago. The originating bakery is no longer in existence, but today, the current generation continues the family's legacy: the two sons run three bakeries throughout the city and Theodora independently runs God's Gift Croissant's House.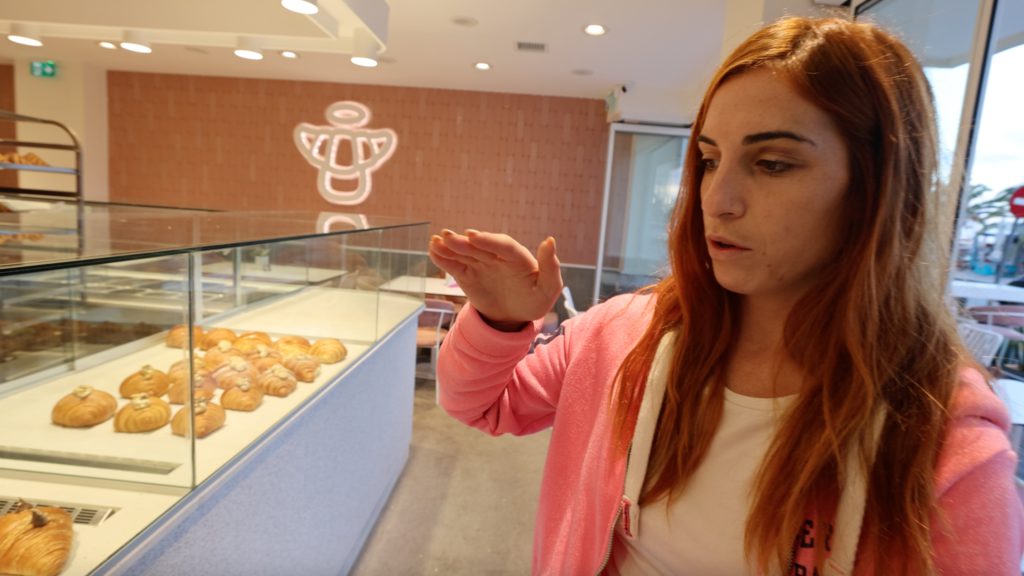 Founder and proprietor of God's Gift Croissant's House, Theodora Nikolidaki, speaks about how the croissants are laminated (layered) using two types of butter.
The name of the bakery
The bakery's name is more than a clever idiom.
"It's in memory of her mother," colleague Katerina explained. "Because her mother used to call her a god's gift and she wanted to do something to honour her mother, so she made this [bakery]."
The root of the name Theodora is Theo. And in Greek, Theos means God.
Starting the cafe
Most who visit the bakery would be as astonished as I was to learn that it opened in August (August 18, 2023), only two months before my visit. Theodora was open about discussing its challenges but also its upsides.
"When you see a beautiful bakery it's not so easy. You don't see inside." She said. "The chefs inside, they work all the day. We [would] come together at 5 in the morning and [we would] leave at 12 at night."
Her appreciation for her team was clear and she was quick to point out their contributions to the operations. Now that operations are more stable, Theodora said that people are working less hours than at launch.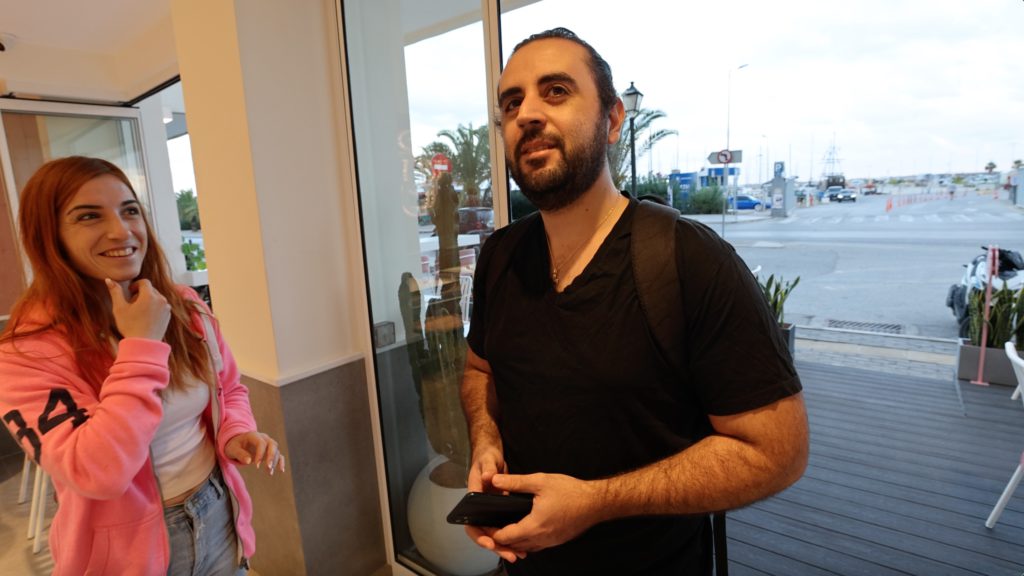 Theodora shows appreciation and admiration for one of her chefs—Manolis Frantzeskakis—who has been working tirelessly to see God's Gift Croissant's House lift off the ground. The two would first work together many years ago at one the family's bakeries when Theodora's parents formerly ran three of them in Rethymno.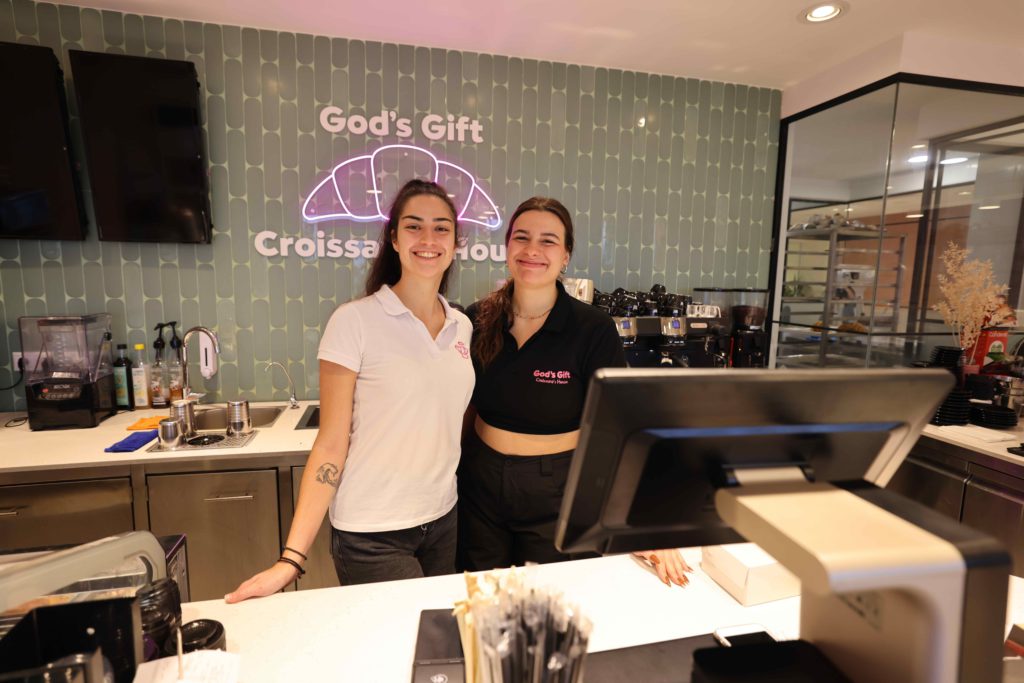 Servers Eva Fragkomichelaki and Katerina Kousidou greet and serve customers at the bakery on a Wednesday morning. God's Gift Croissant's House is located along the corniche in Crete's second largest city, Rethymno.
The hard work has been paying off.
Theodora spoke of the launching period in August, "When we put out the croissant[s] people do that!" Theodora gesticulated a snatching motion with her hands. "All the time! … Oh my god like 20 days like this."
"[It was] so stressful." She added.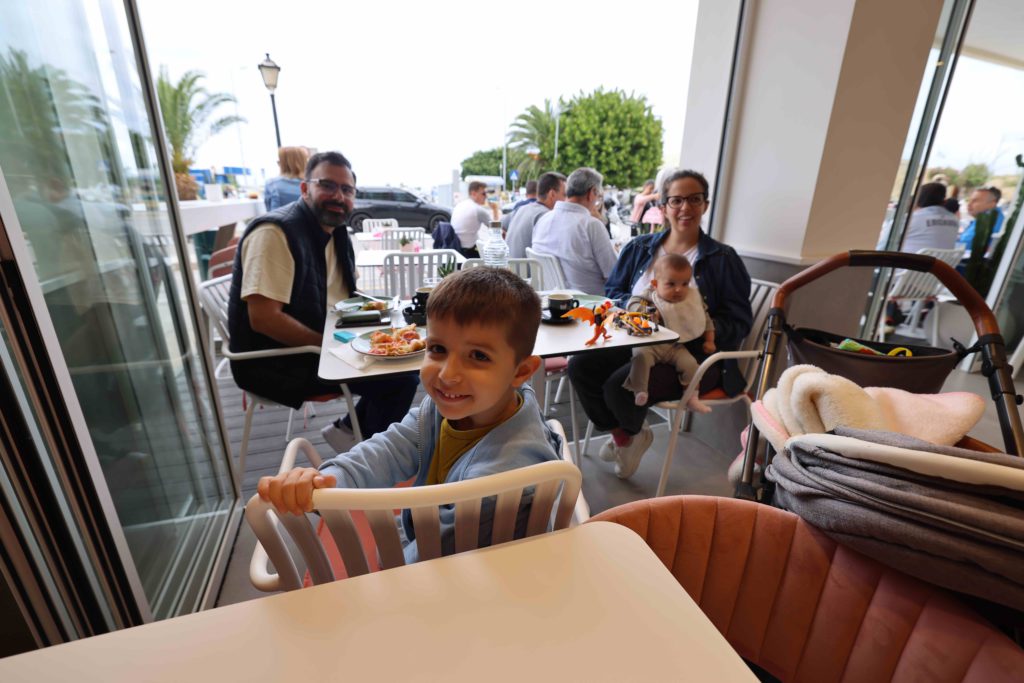 A family poses for a photo on my second visit to God's Gift Croissant's House. (October 12, 2023)
How the croissants are made
Pastry and ice cream chef Ioanna Makridaki spoke more about how the pastry is made.
"To be good in the taste and flavour we need good quality of temperature inside [the oven], we need to have good butter, and we have to have specific times [to] make the croissant."
To get the sizeable cavity inside, the company uses a puffing device. From start to finish it takes about six hours to create a croissant, something they do everyday.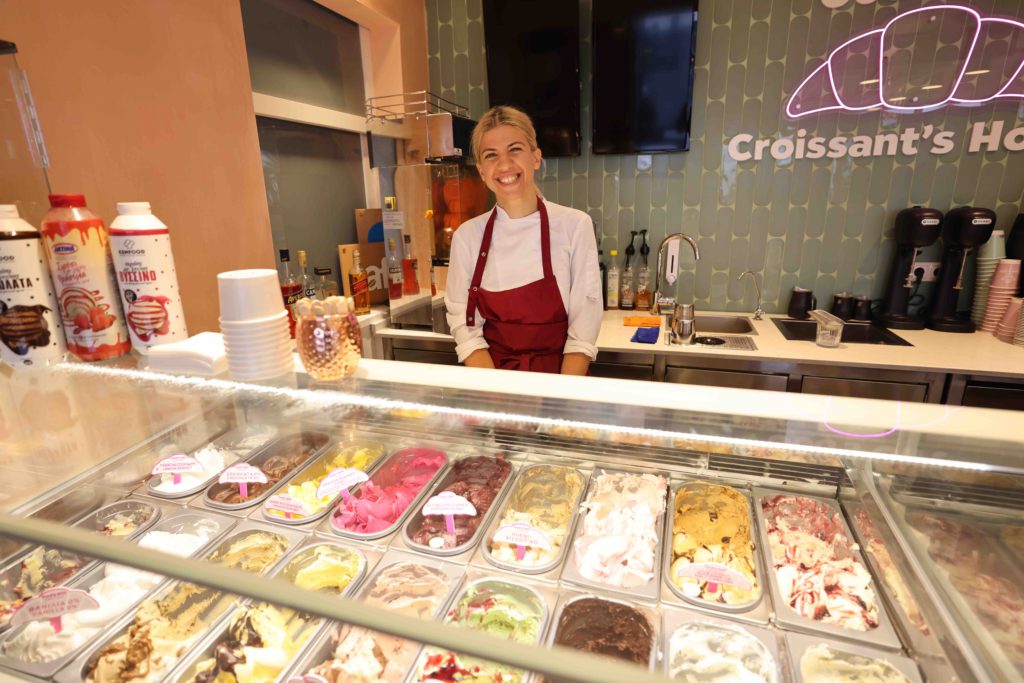 Bakery chef, Ioanna Makridaki, stands with ice cream that she personally made. In addition to specializing in croissant baking, God's Gift Croissant's House also makes fresh ice cream every few days.
Visiting the family's bakeries
On the visit I took an interest in the other bakeries that the family operates and Theodora offered to drive me around to a couple of them the next day for a tour.
As I hopped in her smart car she asked about my own travels. I brought up my dog, Trevor, who travelled to 11 Mediterranean countries in the last two years with me. At the age of 18, he passed away in Canada when we returned from the first voyage.
Theodora's voice softened and she spoke of her own dog who died only five days before.
"I'm not good but I must be good because of the bakery," Theodora said as we prepared to leave the Rethymno marina parking lot for a tour of her family's other bakeries. "I'm so sad about this."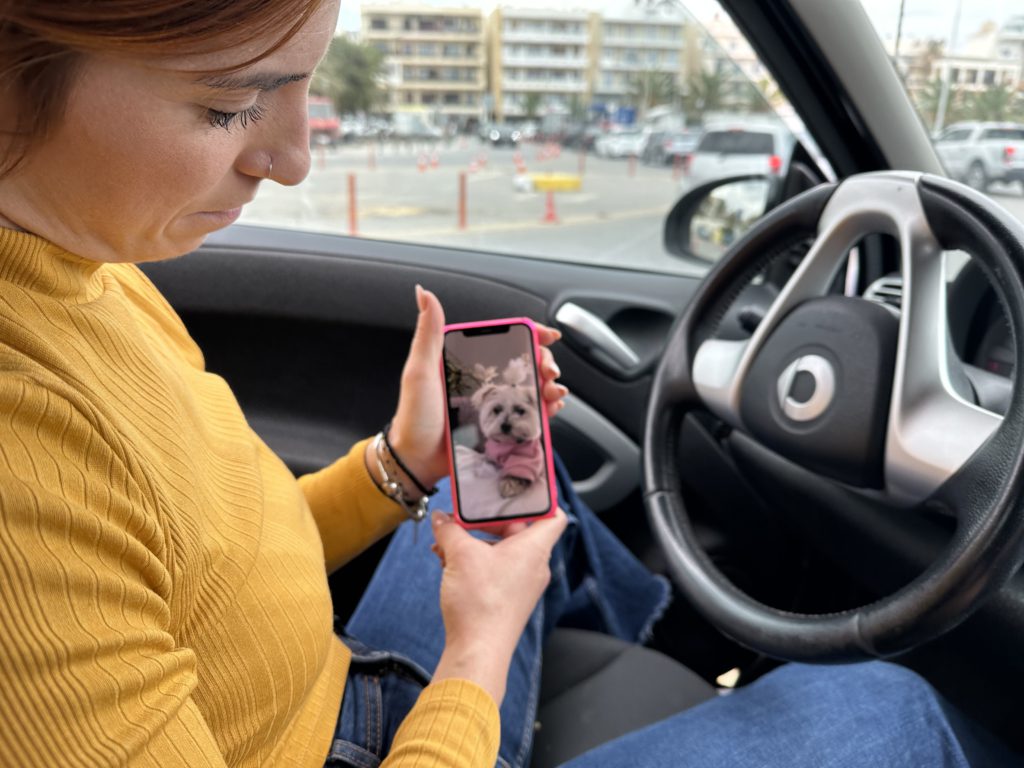 Theodora holds up a photo of her dog, who passed away five days before my visit.
The visits
The other three bakeries are operated by brothers Mixalis & Dimitris Nikolidaki. Mixalis, 51, runs the company's operations—a task that she mentioned "isn't easy". Dimitris, 35, also in operations, was seen at the first bakery that we visited welcoming and serving customers.
When I asked to clarify the ownership structure Theodora stressed that she independently owned God's Gift Croissant's House.
"I tried very very very much for a long time about this," Theodora spoke about the path she took in eventually starting her own bakery.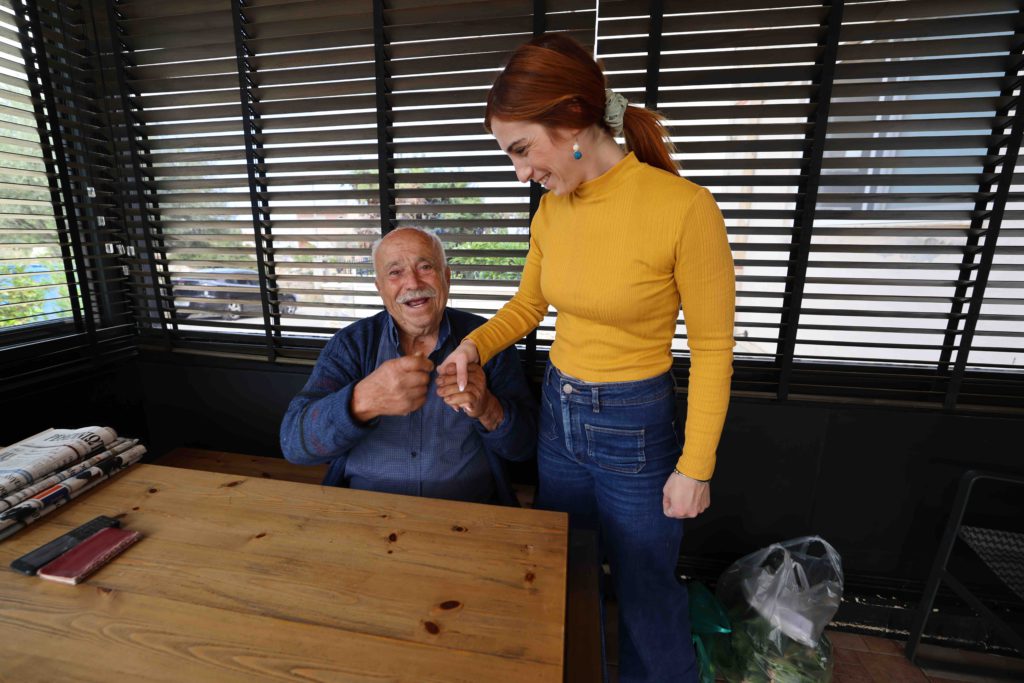 Theodora with a customer at one of her brothers' other three bakeries. Given how long her and her family have been in the bakery business I asked if she knew all the customers. She quickly responded in a humorous tone, "Yes, everybody! Everybody!"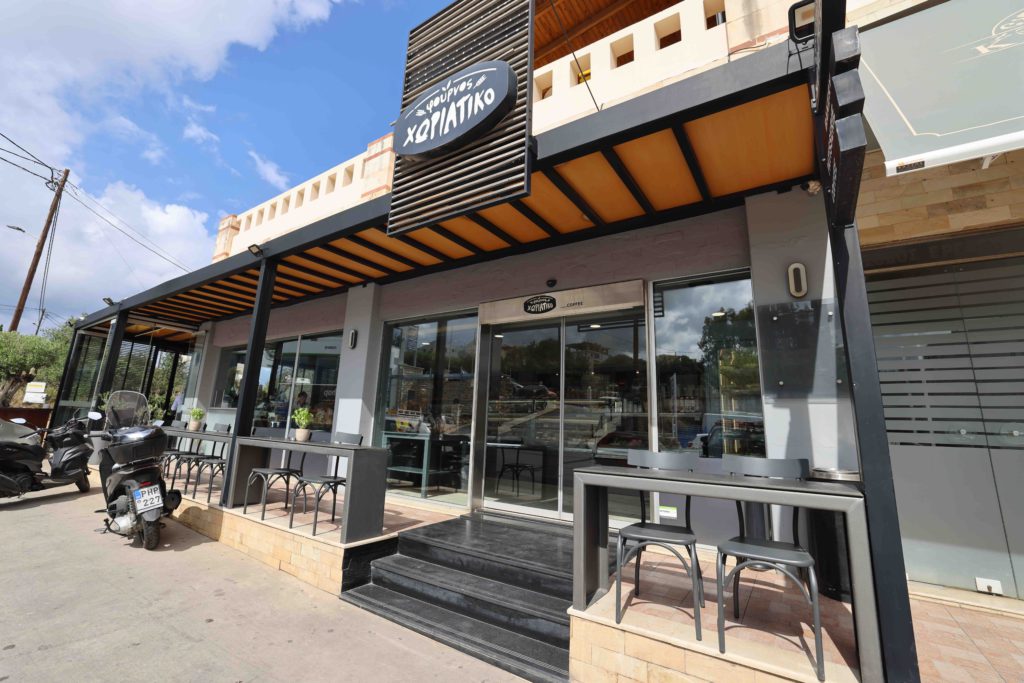 The bakery above is one of three bakeries run by Theodora's two brothers, Mixalis & Dimitris, in Rethymno, Crete, Greece. (This bakery has been in operation for 23 years)
Preparing to part
Theodora pulled up in front of her cafe at the end of the tour and I prepared to get out. As I was to soon open the door, she began to speak more, very softly, almost as if she was speaking to herself. Her voice was melodic and natural—almost poetic.
"You know when I lost my mother I lost my world. I tried so much to go up. When I lost my father I was so young. My mom was an angel, it was perfect. [She] was never tired. My mother wake up at 1 in the night. And everyday she was so happy. Everyday I have [her] on my mind.
That's why God's gift.
Everyday she say[s] you are a God's gift.
That why the name of my croissant house.
I love [my] mother."
In a bakery in the northern city of Rethymno in Crete, Greece, a bakery named God's Gift Croissant's House is making croissants that taste like they may just be … from above.