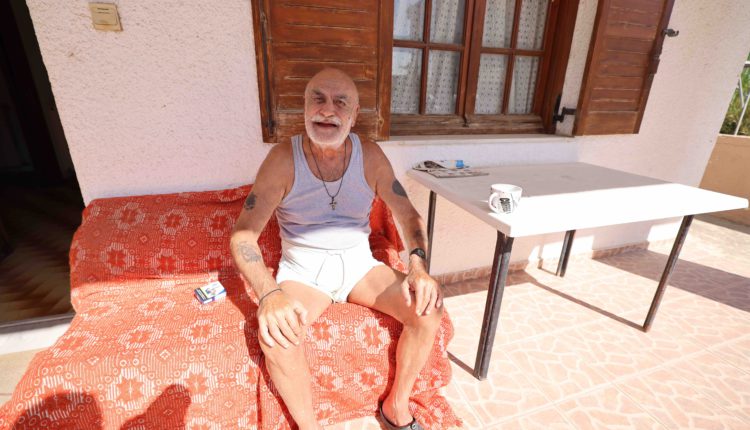 Retired naval sailor in Crete 🇬🇷
Where: Heraklion, Crete, Greece 🇬🇷
I was lost on my way to visit a manufacturer of Greek coffee (Kafes / Καφές) in the City of Heraklion on the island of Crete when I saw an elderly man sitting on his porch alone. I parked my car, walked up, and the conversation began.
"All over the world!" Dimitris exclaimed to me.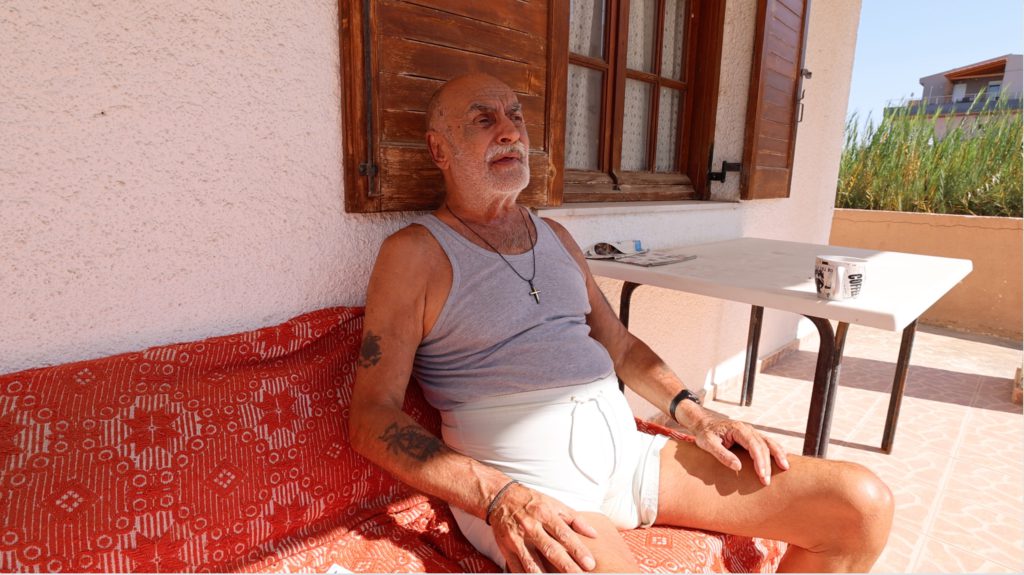 Dimitris sits on his porch in Heraklion, Crete, Greece, and speaks of his time in the Greek navy. When we met he was 77 years old. He served for 37 years.
Dimitris was a retired sailor in the Greek navy. Whenever he spoke about the places he travelled to there was an extra glow about him.
"Brazil, Peru, Colombia, China, Philippines. All over the world!" He re-emphasized again. "All the ports."
He spoke about meeting the people and seeing the different cultures around the world that were highlights of his time in the navy.
Dimitris served for 37 years. He mentioned that he's now retired and on a government pension.
"2015 I stopped," Dimitris said of his retirement. "I have money from the country. Of course I have many years."
"I have the rest of life with that!" He said of his pension. He lightly chuckled with appreciation as he mentioned it.
"What do you do each day as a retired man?" I asked him.
"What I do?" He responded back rhetorically. "Nothing! Just go to cafe and do coffee." He said to me.
He had a relaxed comportment as he spoke—as one may expect speaking to a retired man who worked in a career for several decades. But as he spoke about his retirement years there was a faint longing in his voice. My interpretation wasn't that there was regret. But, perhaps, a longing for more activity or for more company to be around him.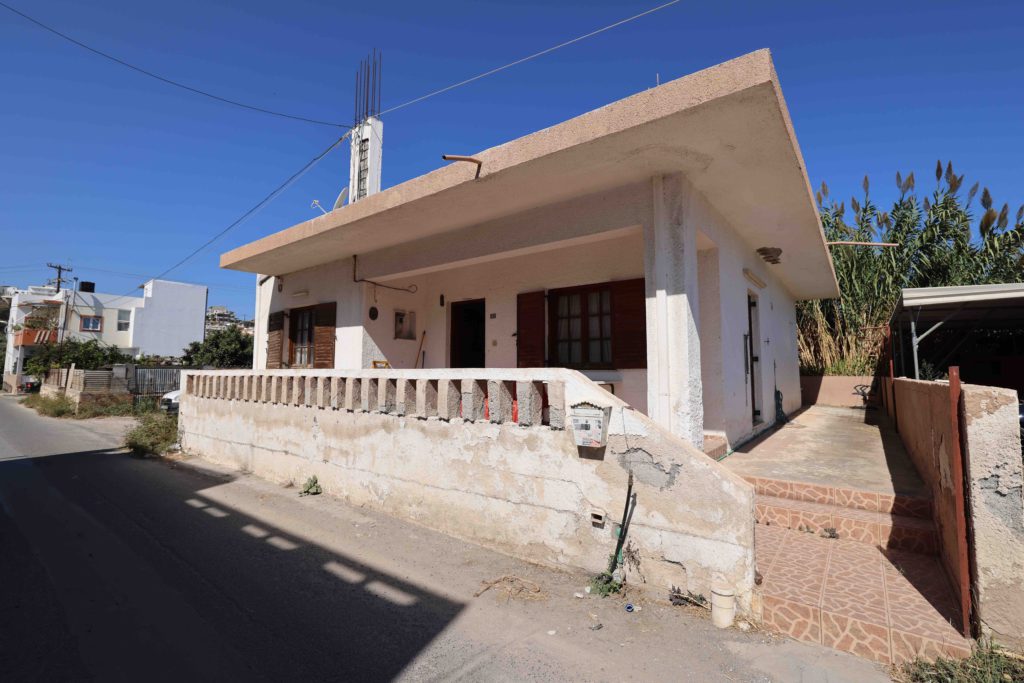 Dimitris' home in Heraklion, Crete, Greece.
The love of his life
"Come!" Dimitris said to me during a moment of lull. We walked through the opened door of his home and entered into the main area which acted as a foyer, kitchen and dining room.
He pointed to a framed photo of his grandson on his kitchen counter. He then retrieved a photo album, set it on a counter and opened it up.
On the first page was a photo of him and his wife, a Greek woman named Despina, on their wedding day.
"She's a beautiful woman," He said of his wife. "A good heart."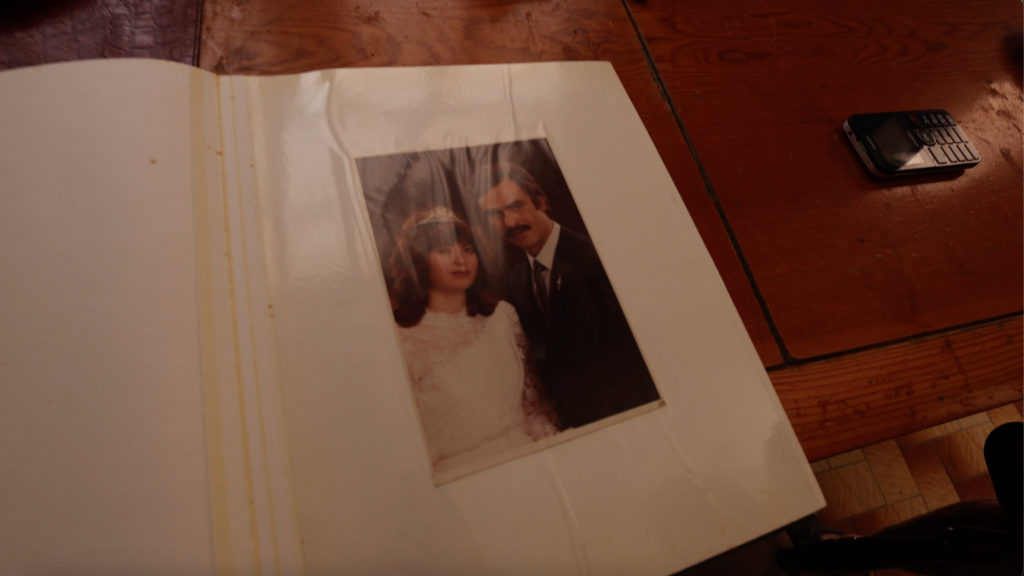 There was enormous love and affection that could be felt whenever Dimitris spoke of his wife. His love for her was inescapable.
He would share with me the challenges the two had in the later years of Despina's life.
"I [had] a big problem with my wife," Dimitris spoke of a memory disorder that Despina was diagnosed with. "She [didn't] understand, she [didn't] look at everybody."
Having developed the condition at 50 years of age, Despina had the disorder for 16 years. She died at 66 years of age.
His adoration for Canada
Canada came up a couple times in our meeting. He told a fun-spirited story about how he had visited the country when he was a younger naval sailor ("the entire coast of Canada," He said at one point) and a Greek-Canadian family wanted him to stay to marry their daughter.
"So I was handsome, you know," Dimitris chuckled and purposefully stiffened his body and puffed his chest to demonstrate his vitality as a young adult.
"A Greek family this time want[ed] to keep me there," He told of a story. "They like[d] to marry their daughters [to Greek men]."
"But I loved navy [at] this time. I liked travelling. Good money and I liked seeing the people. [And] different cultures."
And of course, Dimitris ended up marrying Despina. The couple had one girl, who eventually married and had a son, making Dimitris a grandfather. (the photo of whom Dimitris pointed out when we first entered his home) His daughter and family also live in Heraklion.
Dimitris was the son of a Greek couple—His mom from Chania, Crete, and his father from Pontos in present day Türkiye. (It's assumed that his father and associated family would have immigrated to present day Greece as part of the population exchange of the two countries around 1922)
When I brought up a trip I was considering to Lebanon, he cautioned. He brought up the conflict between Israel and Palestine that had just resumed a day earlier and mentioned that a conflict of this nature hadn't occurred since 1966.
"Very hard, very hard." Dimitris spoke. He slowed down his words as she spoke. "War is very bad for people."
He mentioned he was on a ship in that area at some point but the details past this point (including when) weren't clear.
The return trip that never happened
After trips to a couple areas of Crete I intended to visit Dimitris once more before flying to Milan. I envisioned walking up the steps of his porch again—this time bringing coffees for us and some pastries that I would have acquired from a local bakery. I hoped to sit with him for a while longer. To talk more. And to get some final routine information for this article such as something as simple as his last name. But it dawned on me: I didn't actually know where in Heraklion his house was. Again, I found it the first time, by happenstance, while lost. And the visit was so fast—almost ephemeral.
But maybe the passing and meeting happened as it should. Dimitris is a gentleman who is charismatic, hospitable, adores his family, and has a kind, open heart.
One of the lasting memories I have of Dimitris is a prominent tattoo that was on his left bicep/tricep. I noticed it a couple times during the visit. The tattoo was in the shape of a heart and it was inked in green. And if one focused closely enough to what was written in the middle of it, the tattoo could be read.
It read, "Greece".