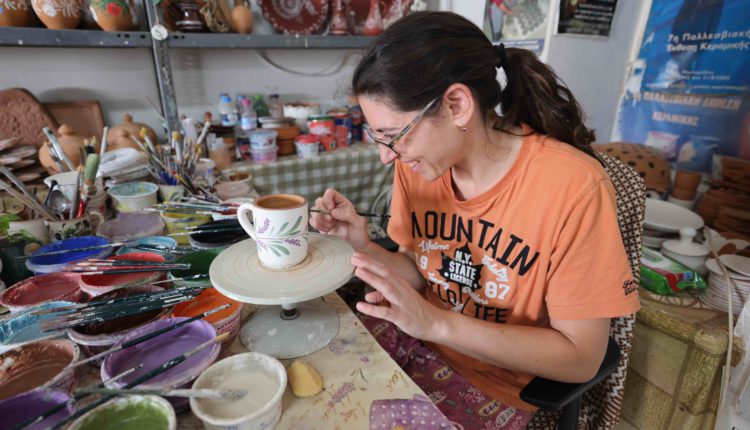 Family of ceramacists in northern Lesbos
Where: Mantamados, Lesbos, Greece 🇬🇷
"This is a whistle," Efthymia picked up a ceramic object in the shape of a bird. "A whistle with a duck."
"But the most traditional whistle is this…" She set the object down and walked over to another area of her store. "This is the traditional whistle of Lesbos."
This piece was in the miniature shape of a pot used for watering flowers.
"You put water in the middle, you blow, and it sounds like a bird." She explained. "[A] toy of the old times."
I came across Efthymia's family's pottery store, Dimitris Stamatis Pottery, on a drive from the main town of Mytilene to Mithimna (Molivos) in northern Lesbos, when I coincidentally parked my rental car in front of the store to take pictures of olive trees and idle tilling farm equipment at a lot next door. Efthymia was outside of her store and we began talking.
"My mother and my father were here [working]," Efthymia responded when I asked how old she was when she learned the craft. "So I was here until one years old," She gave a big smile and laugh.
"As a child my grandpa showed me how to make animals, showed me how to make some things," Efthymia continued, sharing more about her upbringing. "My mother showed me how to paint. I painted something as early as five years old." When we first met she was quick to point out, perhaps with some modesty, that she is a "student" of pottery and that her speciality is painting.
Today, the store & company is run by four Stamatis family members: Her father, Panagiotis, and brother, Dimitris, work on the (potter's) wheel, her mother, Klio, specializes in painting the pottery, and Efthymia, who throws some pottery and is a painter.
"Me and my mother, we're painting," Efthymia spoke as she sifted through some of the ceramics on the shelf. "Everything is hand painted."
"Everything in this room, and everything in this shop is painted by you or your mother?" I asked her to clarify, and also impressed with the craftmanship.
"Yes," She responded.
Traditional designs & styles
The store had a blend of traditional and modern ceramic pieces. She pointed to a small collection of pots on the top shelf, most of them with olive vines and olives painted on them.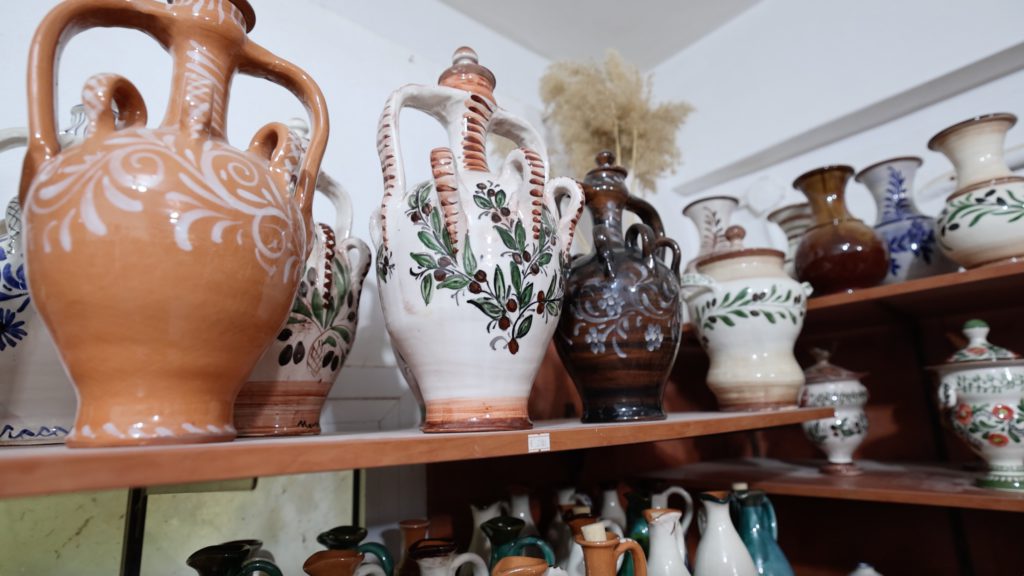 "The mother [of the groom] gives [the pot] to the woman, to the bride," She explained the symbolism of the traditional piece. "The big hands [handles] means the couple, and the small handles means the children, to have a lot of children."
We looked at another collection, these in the shape of ducks. They would have been used to hold liquids such as wine.
"They are traditional items, ceramics, inspired [from] Çanakkale ceramics." Today Çanakkale is in present day Türkiye. (I made a visit to the community last year) She went on to explain that Greek potters used to live in the area and when they migrated to Lesbos they brought the style to the island. This collection is based on that style and adapted by the family.
"Greek potters were there [Çanakkale]," Efthymia said. "When they came back to Lesbos they bring also their tradition. And we add this tradition with our ideas and inspirations."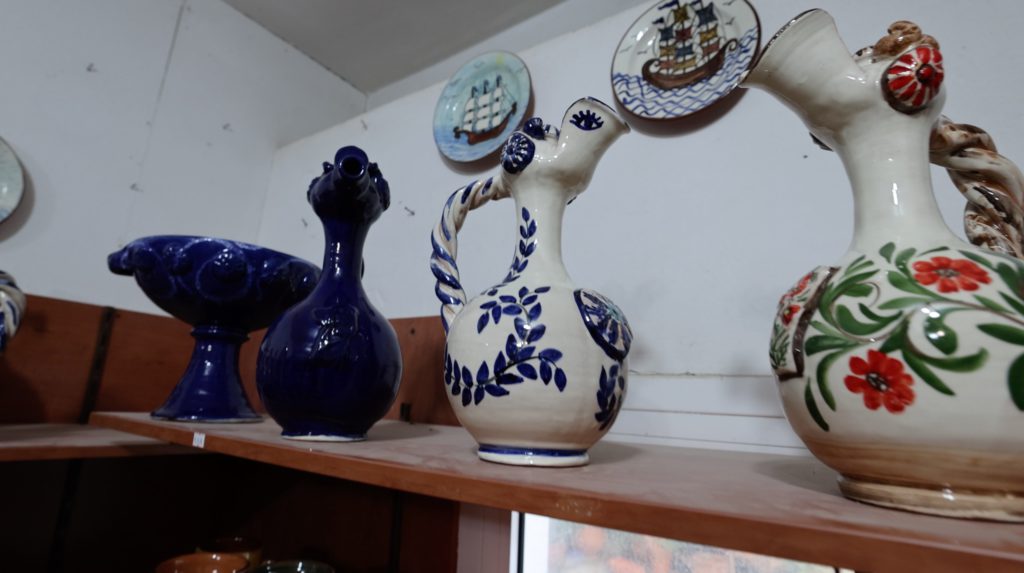 Following tradition
Both of Efthymia's grandparents, also named Efthymia & Dimitris, were potters and as the story has gone, so is there children, and so is there children.
Efthymia spoke of the traditional roles and how they have adapted a bit over time. She shared, "In the old times the woman paint and the man were making pots on the wheel. Now me I make both. Animals faces by hand. Also painting I like. My mom only painting. My father only on the wheel. It's better everyone has their own job."
The family has continued to adhere to another Greek tradition I've observed on the island: The grandson having the name of the grandfather and the granddaughter having the name of the grandmother. As such, like her grandfather, her brother's name is Dimitris, and like her grandmother, her name is Efthymia.
Before parting and continuing my day journey to Molivos, Efthymia asked if I wanted to see her paint. Without hesitation, I said yes. And with a high level of talent and professionalism, in under three minutes, she painted a beautiful pattern on a ceramic cup that her family made.
On the island in Lesbos, in the northern village of Mantamados, exists the Stamatis family, busy at work in their potters shop, Dimitris Stamatis Pottery, making traditional and modern pieces of ceramics, all made and painted by hand.