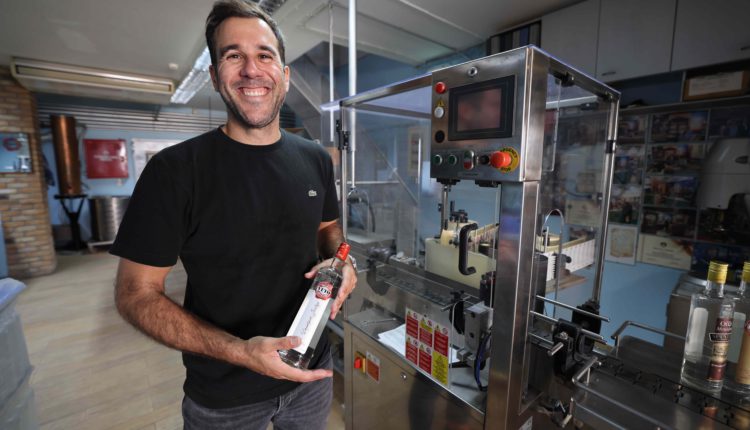 Making Ouzo on the Island of Lesbos
Where: Mitylene, Lesbos, Greece 🇬🇷
Before making my first trip to Greece nine years ago I remember an old Canadian friend writing to me by email something along the lines of, "Have an Ouzo for me."
I arrived on the Island of Lesbos after a 3-hour ferry from Chios on a Thursday morning. As I left the wharf and entered the island's main town's (eponymously named Mitylene) esplanade, the first establishment I noticed was a boutique selling the Greek alcoholic beverage Ouzo called Ouzo Veto Spentzas Distillery.
I decided to walk in.
After missing one of the proprietors, Dimitris Spentzas, a fourth-generation family member in the business, we caught up the next day.
"Oh, that has a really nice aroma to it!" I said to Dimitris after smelling a jar of Anice that he held up to my nose.
"That's why Lesbos is the main capital of Ouzo," Dimitris responded.
Anice is a spore. Dimitris explained that different regions modify the Ouzo by using ingredients indigenous to their regions: Mastik in Chios, Correander in Macedonia, etc. But in all Ouzo, the principal ingredient is Anice.
As a spore, Anice is grown on bushes. Dimitris commented that seeds are added around January and harvested in July of each year. All the Anice used in Ouzo Veto is from spores grown on the island and provided by two different harvesters.
Dimitris cited that there is evidence of alcohol production in the region that dates as far back as 3,000-5,000 years ago and that the variety of Anice found on the island dates back 3,000-4,000 years. Although Ouzo is the name that's applied to this type of drink in Greece, the process occurs in other regions too. Dimitris mentioned the regions of Türkiye, southern France & Italy, as regions also making alcohol with Anice. He commented that in Türkiye, alcohol made with Anice is called Rakı, for instance.
He stated that for an alcoholic beverage to be called Ouzo, it must be from Greece.
More on Ouzo
"It's basically a spirit," Dimitris responded. "It starts from about 37.5 percent volume of alcohol and it can go around 50. Typically, it can go 40-45."
By law in Greece, all distilleries must buy their alcohol through regulated means. Alcohol can come from international means, but the sector, for obvious reasons, is quite regulated. Alcohol that's used to make Ouzo can be based on a variety of means: grapes, molasses, wheat, sugar cane, etc. Ouzo Veto usually uses alcohol that's processed from sugar cane, and at times, molasses. The two, Dimitris commented, are similar.
Sharing more on why his preference is to use alcohol fermented from sugar cane, "It's odourless. So it doesn't smell a lot. And I can have a much more clearer product with my herbs inside [the distillery] and my spores."
How it all began
It was the soon-to-occur wedding of his great-grandfather, Georgis Spentzas, in Kınık, in the Bergana region of the Anatolian peninsula (present day Türkiye), that was an inception point for the family to get into the alcohol business. This was the Ottoman period so many Greek's lived in the present-day region of Türkiye, and vice versa, many Turkish lived in the present day region of Greece.
Georgis went to his soon-to-be father-in-law, Theoharis Kirintzoglou, who was making a rose pedal beverage (non-alcoholic) at the time and brought up the conversation of making alcohol together.
"He was a cleric," Dimitris described of his great-grandfather's father-in-law. "So he had the permission permit of making, not Ouzo first, but of rose pedals." (Today, known as Rose Water) Dimitris pointed to one of a few historically framed pieces of documentation on the wall behind his desk. The certificate he first pointed to was written in Turkish using the Arabic script. (Which would have been consistent with the writing system of the Ottoman Empire) The certificate Dimitris pointed to was signed by the contemporary head of the Ottoman state, Sultan Abdul Hamid II.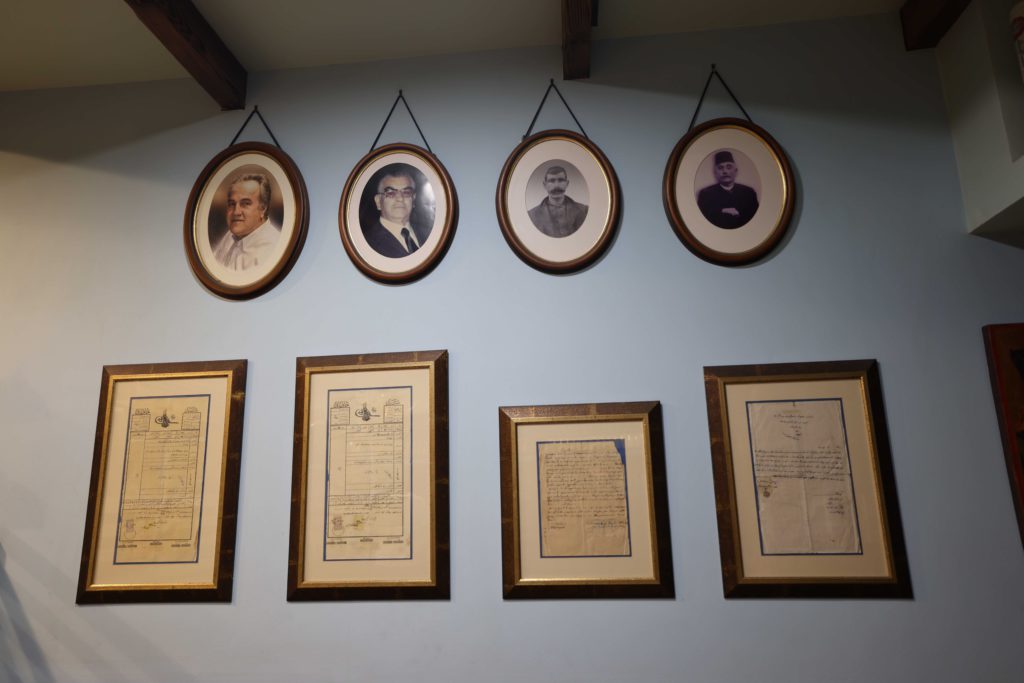 Photos of the dynasty of Ouzo Veto hang on the wall at Ouzo Veto: (Left-to-right and in relation to Dimitris) George Spentzas (father), Dimitris Spentzas (grandfather), Georgis Spentzas (great-grandfather), & Theoharis Kirintzoglou (father-in-law of great-grandfather)
As Dimitris described it, because of [Georgis'] upcoming wedding in Bergana, he went to his father-in-law and said, "Why don't we start making Ouzo?"
Georgis wanted the alcohol for his wedding reception but also had aspirations of merchandising the product.
In 1892, the business was born.
Bringing the business to Lesbos
Around 1910, during a period of large exchange of people from present day Türkiye coming to present day Greece, and vice versa, Dimitris' family moved to the island of Lesbos, where they are still today. The business was paused because of the challenges the family experienced of relocating in that period of time. His grandfather, also Dimitris, went to work in Crete for some time while the rest of the family remained in Lesbos and began building their lives over again.
In 1948 the business was restarted, this time on the Greek island on Lesbos where it is today.
The business today
Today the business is on its fourth generation in the Spentzas family. The business is run between Dimitris and his sister Mirto Spentzas. Dimitris officially joined the business in 2013 but has fond memories of helping out in the business as early as six years of age. In addition to the boutique in Mitylene, the main town in Lesbos, Dimitris said that the company has three other warehouse locations. They sell via retail and wholesale means (150-200 retailers on the island were cited, most of which would be small boutique shops) on the island, to other areas of Greece, and since 2013, began exporting.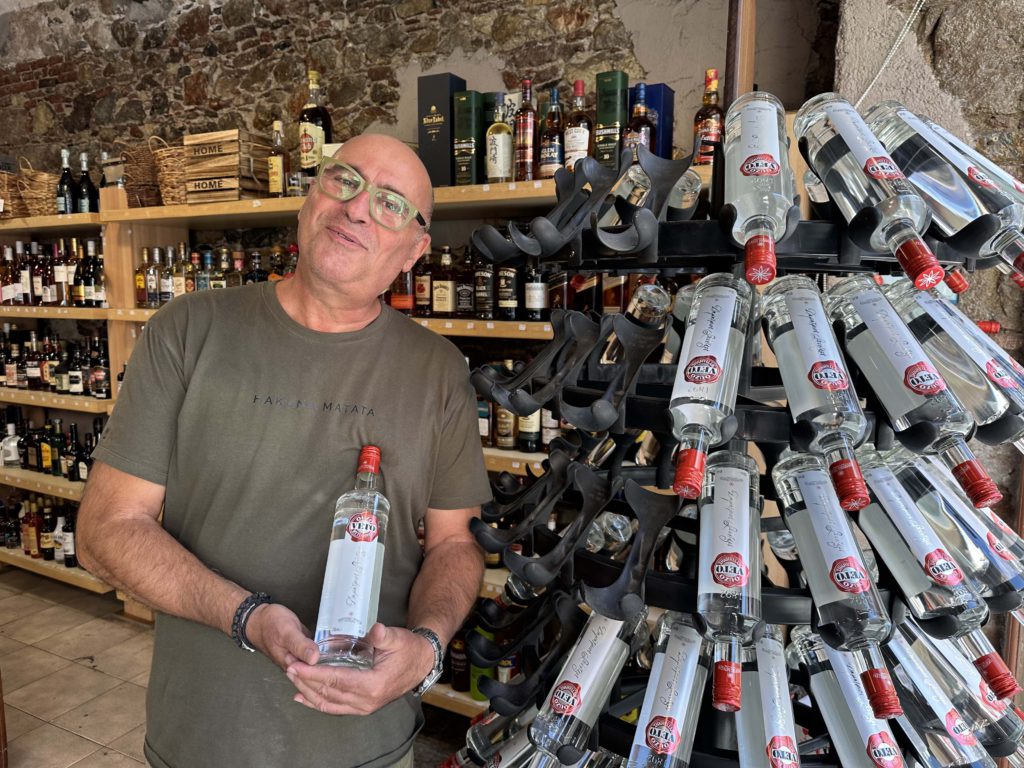 Above is a photo of Stelios Koutsouradis, proprietor at My Cava in Mytilene, Lesbos, who carries Ouzo Veto. On my way to meet Dimitris a second day, by happenstance, I walked by this store and walked in.
"[Exporting] goes good," Dimitris commented. "It's about 23% of the whole production, it goes outside."
He mentioned exporting has occurred to several European countries including Germany, Belgium, Switzerland, etc. And some goes to Mexico and Australia.
The 20% Ouzo
In addition to the 37.5% – 50% volume of alcohol distilled Ouzo that was cited at the start of this article, Dimitris also mentioned that another method of making Ouzo is not by using distillation but by using a mixer and cold diffusion. In the latter case, Anice extra (the oil of Anice) is used. When it comes to Ouzo, the latter method is what most people will be familiar with. The company makes both types.
On the island of Lesbos, Greece, Ouzo is being made using the very aromatic spore, Anice, by a fourth-generation family under the company name, Ouzo Veto Spentzas Distillery. Just like my friend's comment before my first trip to Greece many years ago stuck, for many decades, Ouzo has stuck in the mind's of most as the alcoholic beverage of Greece.