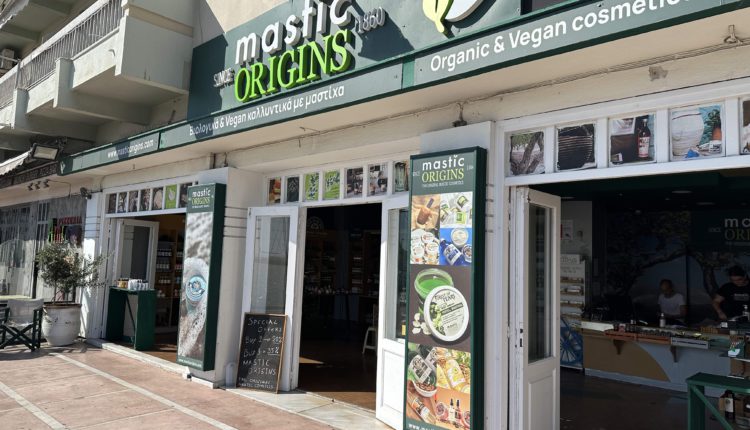 Health properties of Mastic tree resin
Where: Chios, Greece 🇬🇷
"Mastic has many properties, to the skin, to the teeth," Maria Stavrinoudi, a pharmacist and one of hte proprietors at Mastic Origins, a boutique along the marina on the Island of Chios said to me.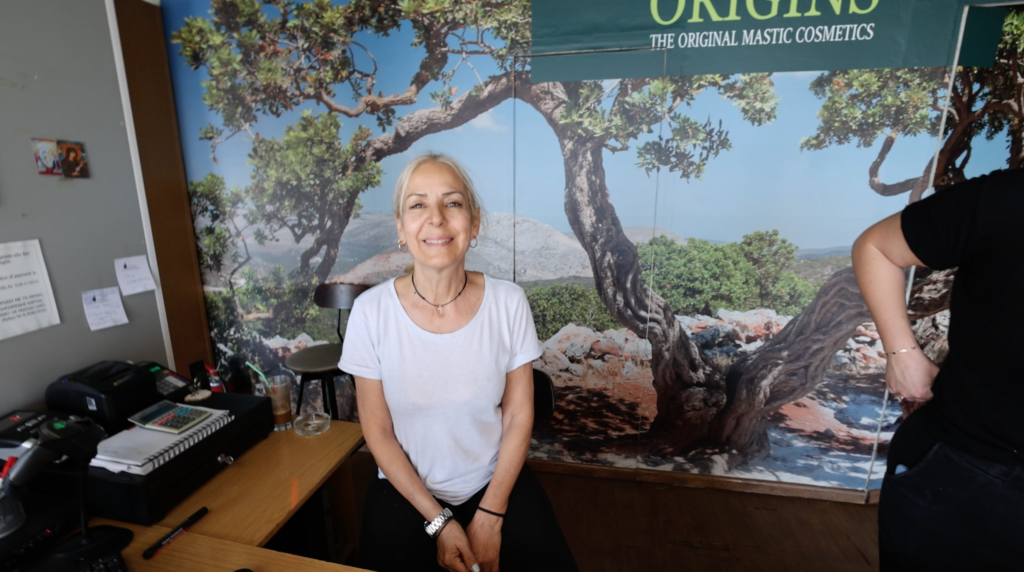 I had just arrived in Chios 45-minutes earlier, having taken a short ferry ride across a narrow from Çeşme, Türkiye.
"[There is] research that Mastic is very good for the teeth, it reduces cavities." Maria went on to explain. She also cited dermatological benefits.
Mastic is a resin that a type of tree produces. Coincidentally I first learned about Mastic in speaking with my residential host in Alaçatı, Türkiye a mere three days earlier, who had a couple trees on his property. (Here is the IB article on the visit: A little gem in Alaçatı) It's this resin that when dried can be used for various activities.
Mastic Origins sold a plethora of Mastic-oriented products: cosmetics, chewing gum, supplements and even Mastic-infused liquor.
Maria's father-in-law, Ioannis Sodis, started the company in 1978. "He was a member of parliament and pharmacist. He tried to make Mastic not be gum. He tried to show to the other people that Mastic has other [health] properties." Sodis principally encouraged the initial research at the University of Thessaloniki that was referenced at the start of this article.
Why Chios?
An hour walking in and out of boutiques in Chios is all one needs to quickly recognize the influence and importance of Mastic to the island. Many boutiques, in addition to Mastic Origins, sell products with the resin infused. (And yes, I was able to find Extra Virgin Olive Oil blended with it) But Chios' influence on Mastic products goes beyond the sea-girted land: Even my Turkish host (article link above) had a couple trees on his property yet commented on the popularity of the tree in Chios.
"The Mastic tree can grow anywhere," Maria answered when asked about it. "But the resin isn't what is here."
She went on to explain, "[In other areas] It's not what is here. It doesn't have the perfume (the aroma), it's bitter."
"This," she held up a pack of Mastik from Chios. "It's not bitter."
In describing the uniqueness of the Mastik tree on Chios she made a point about idealized Mastik coming from the southern part of the island. When inquired further about the comment she emphasized that only in "southern Chios" can the highest quality Mastik be found.
The company originally began manufacturing on the island but eventually moved its manufacturing to Athens. Whereas the boutique in Chios, where it's located now, opened 15 years ago. The company does exporting: Maria cited Czech Republic, Cyprus, Saudia Arabic, & the United States.
Maria is a pharmacist and former member of parliament too. The latter she told me she did for one year but didn't enjoy politics as much. She mentioned that presently her son and daughter run the shop and that she helps out.
Manufacturing Mastik-based products in Athens and operating a tasteful boutique along the marina in Chios, Mastik Origins is infusing and selling a variety of Mastik-oriented products, sourced from the trees of southern Chios in Greece.