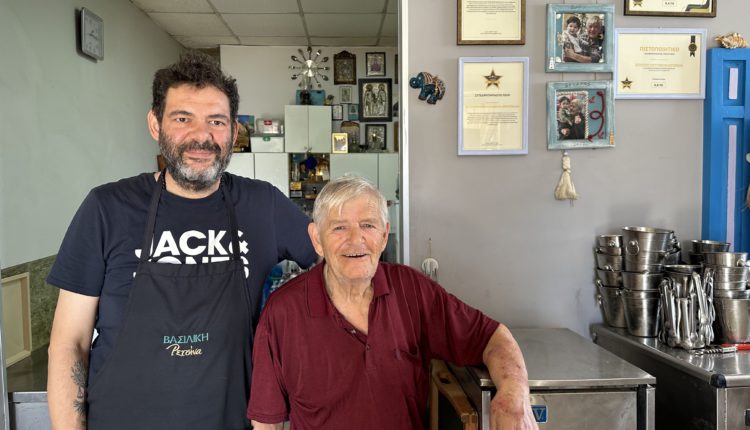 The freshest fish in Chios
Where: Chios, Greece 🇬🇷
"This is the freshest fish on the island," Klaidi Carja, a server at Ihtheoskala Fresh local fish tavern said to me as I was getting ready to settle my early afternoon bill: a Greek salad and a Greek beer.
I had just arrived in Chios that morning, having taken a short ferry ride from Çeşme, Türkiye. I was wandering around the outskirts of town, admiring an old fortification, took a moment to put my feet into the sea, and then shortly after, came across the restaurant along a wharf.
In some ways, Ihtheoskala fish tavern struck me as an oasis. The scene was the sea and a wharf on one side, and on the other, the restaurant which was in the corner of a large industrial building. And for the most part, that was all there was in this region of town.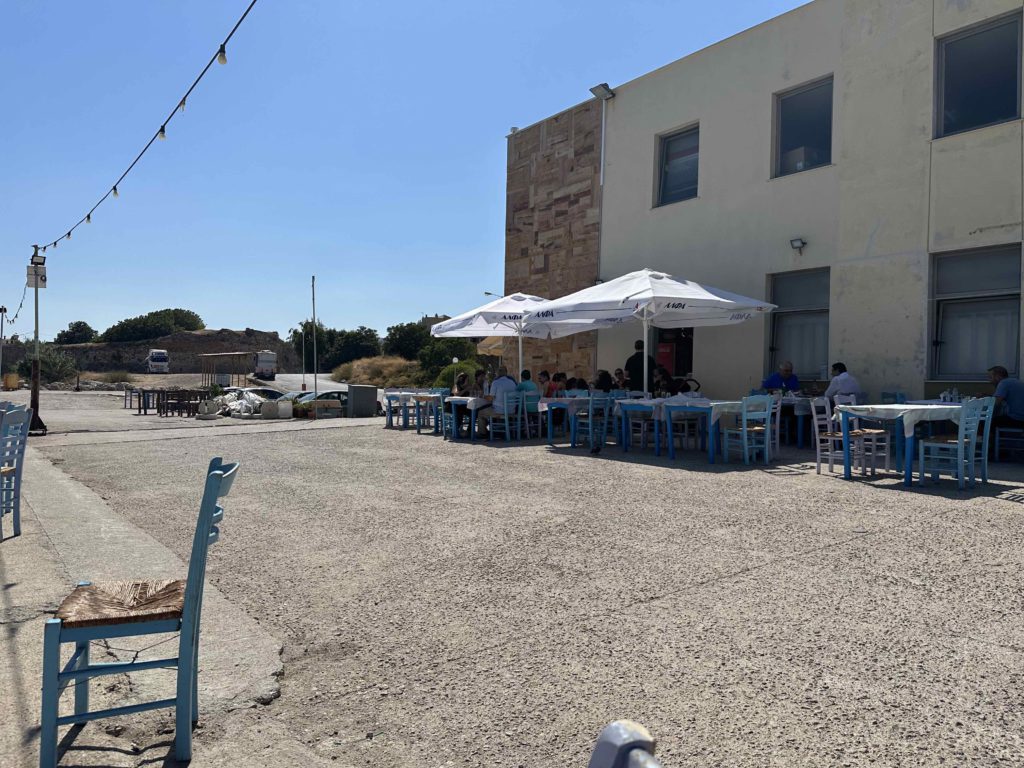 Klaidi (who was originally from Albania and studied in Athens) and I began chatting because I noticed two large green jugs of olive oil lying on the ground and was curious to learn more about them.
He told me he would go ask the owner where the olive oil came from. (It turns out they were from the Greek island of Crete)
The owner, a man wearing a dark apron, was seated off to the side of the restaurant quietly slicing potatoes into a bucket. The entire time I was there he remained almost entirely focused on the food preparation activity.
"3 o'clock night, 4 o'clock night, come the fish," Theodore Tsoykalas (who introduced himself to me as Theo) said to me as we began talking.
"[And] all types." He explained.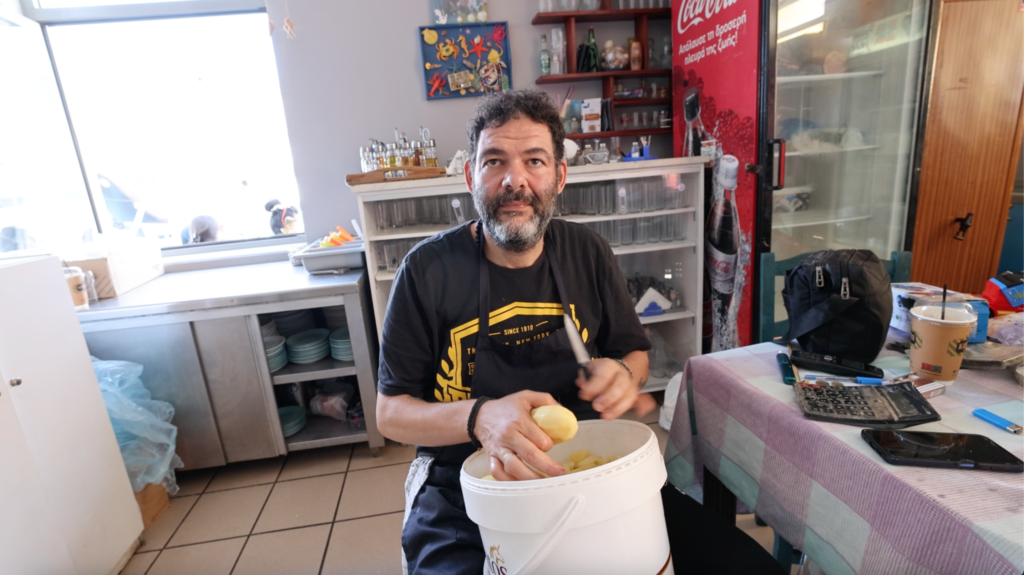 As it turned out, the large industrial building that the restaurant was affixed to was a fish factory. Each night fisherman bring their catches to the building to be processed and sent to Athens. And it's this restaurant that buys a portion of these catches daily and serves them to their customers.
Theo went on to explain that by 6am the main portion of the fish have been processed and are on their way to Athens.
In the short time I was there groups of people gradually and consistently arrived at the tavern. To an unbeknownst tourist on a visit to Chios, the restaurant was all but easy to overlook given its tucked-away location. But Theo Klaidi told me that the restaurant is popular amongst Greek and Turkish people.
"We have half locals and half Turkish people [as customers]" Klaidi said after clarifying with Theo. He further added that Greek immigrants to America visit the restaurant when they are back on the island for a visit.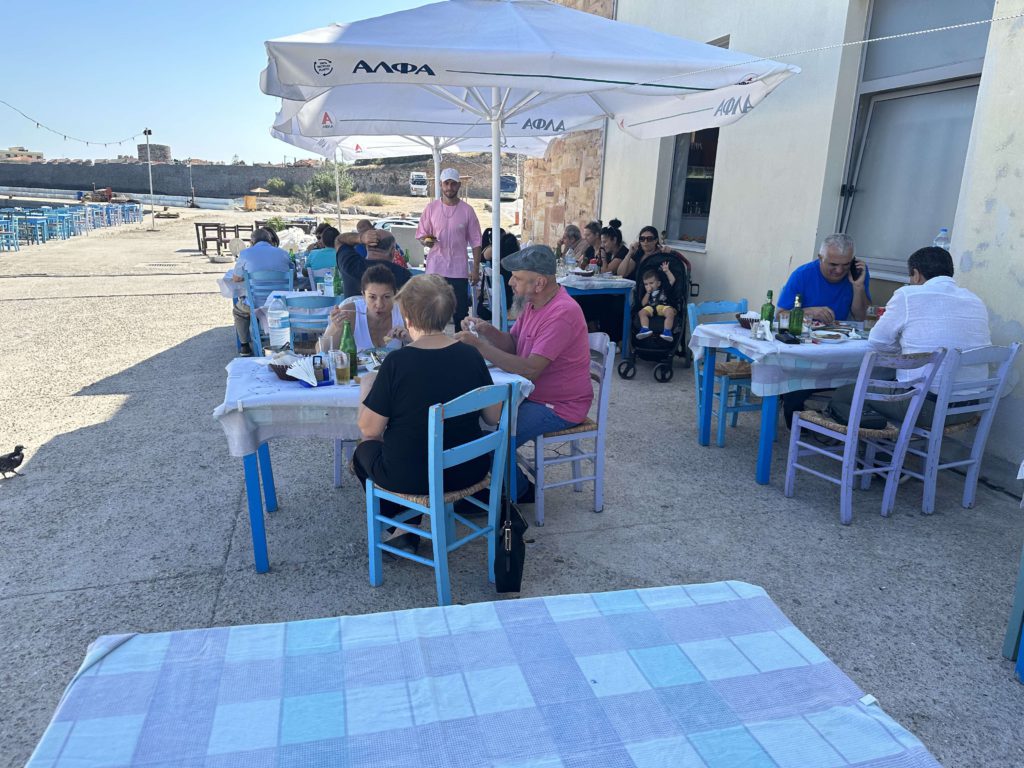 Theo is from Chios and started the restaurant 16 years ago, at the time when the building was first constructed. Like his restaurant's inconspicuous location he too had an unassuming personality.
Along a wharf on the outskirts of the main municipality on the island of Chios, Greece, is the Ihtheoskala Fresh local fish tavern in Chios. Although not where one would expect to find a restaurant, its location can provide, "the freshest fish on the island."