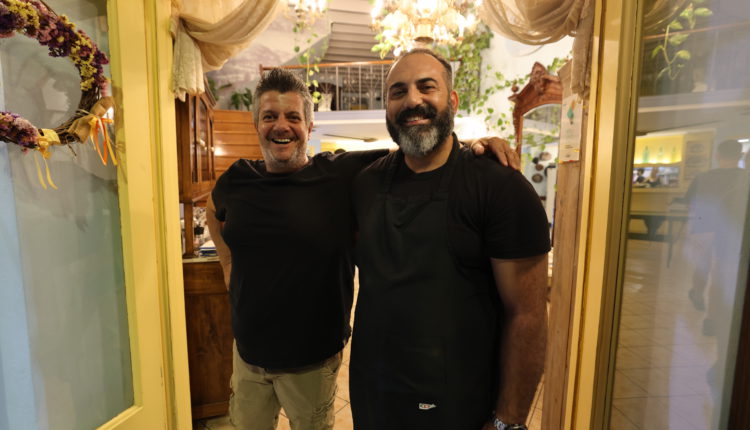 Roussiko — A Chios marina-side restaurant
Where: Chios, Greece 🇬🇷
Markelos Kontos, one of the two proprietors at Roussiko (ΡΟΥΣΣΙΚΟ) had difficulty putting into words why he started the restaurant with his friend and business partner, Sotiris Stratakis.
"I don't have a serious reason to tell you," Markelos said after he reflected a moment. "I was too young."
He laughed.
Markelos told me he was 20 years of age when they opened the restaurant. Sotiris was 28.
Roussiko is a seaside restaurant with a scenic view along the marina in Chios, Greece. On my first evening on the island I went there for dinner. Without a reservation, and a full-looking reservation list in Sotiris' hands, he took the time to find me a table with a clear view of the marina and sea.
Although Markelos had difficulty summarizing why he and Sotiris started the restaurant, one of the servers, Michalis Sebelidis (raised in Athens and studied in Chios), was delighted to tell the inception story.
"[What happened was] Markelos was a different cook in a restaurant here in Chios. Sotiris was a waiter there. Sotiris saw how good of a cook Markelos was and he told him, 'Would you like to open a restaurant together?'"
History was made.
Roussiko originally started in the Village of Thimiana, 10 kilometres from town.
When I asked Markelos why they chose to change locations he said, "For better business."
He expressed that business was good for many years but that there is much more effort that goes into running a restaurant outside of a municipality.
"Most of the people spend time in the centre," Markelos remarked. He further commented on the importance of relying on word-of-mouth versus being in a location where it's natural for customers to find, additional challenges with finding employees if the distance is difficult for them to get to without transportation, and other factors.
"You try all the years," Markelos said. "You try everything."
But he did comment that, taken as a whole, the restaurant did well at its previous location.
"We had many good years for the business. In Thimiana we made a name for the business."
Origins of the name
On a visit back to Roussiko a couple days later, Markelos told me how the restaurant's name came to be.
The way Markelos explained the story is that Sotiris's grandfather, Stamatis Stratakis, and his two brothers had the nickname Roussos because all three had red hair. This was also a time when communism was more prevalent in the region and red hair was a slight that some would apply to those whose hair was red in an attempt to arbitrarily link them with communist beliefs.
Overtime, the term rousses became an amicable joke amongst family and friends. Sotiris' father started a "small tavern" 40 years ago and the name stuck.
"[People would say] we go to Roussos place." Markelos said, telling the story. "It's a little bit of history."
And when the duo started their restaurant 16 years ago, they revived the name again calling their restaurant Roussiko.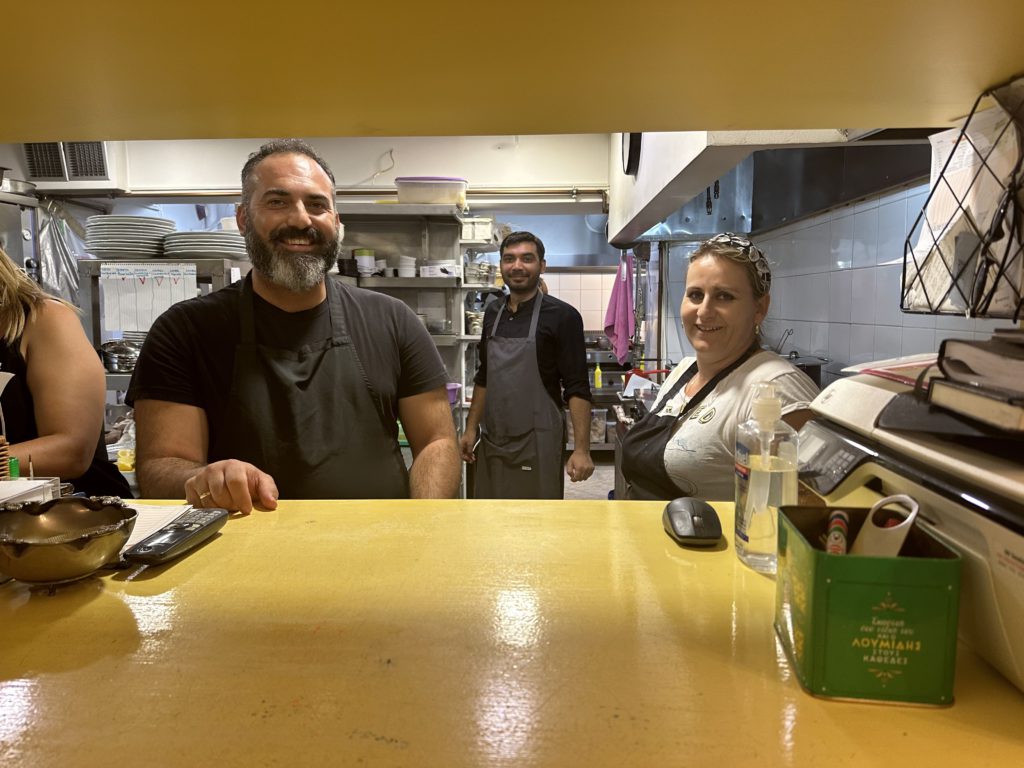 "We make home made food," Markelos said to me when I asked how to define the cuisine. "You know, they say 'Mama food'. And we want the people to feel like home." When I made another visit to the restaurant a colleague and Markelos were making a wrapped food called Pastourma. Markelos explained that it's a based on a traditional pie recipe called Pie from Kaisareia that Greek people in the Kayseri area (in present day Türkiye) would make when the Greeks mostly inhabited the area. They adapted the original recipe for their restaurant.
Both Sotiris and Markelo's wives work in the business: Stauroula and Sissy, respectively. Markelos mentioned that his father helps out at the restaurant sometimes. And that Sotiris' mother works at the restaurant and formerly his father, who has passed away.
For 20 years, great energy, good people & traditional cuisine have been driving the atmosphere and offerings at the seaside restaurant Roussiko on the island of Chios, Greece.