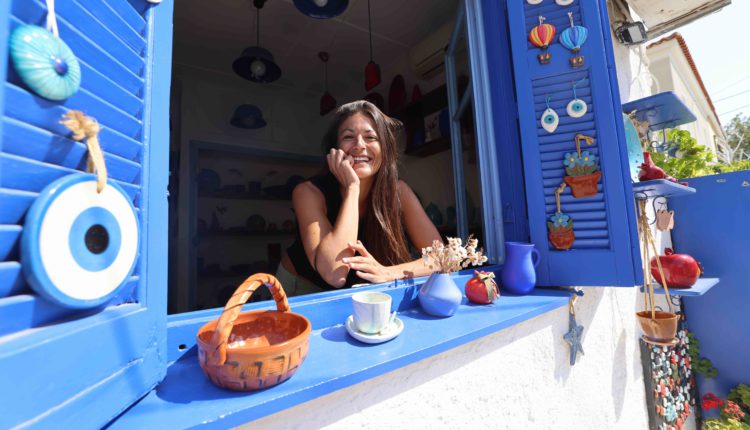 Living a dream in Lesvos, Greece 🇬🇷
Where: Skala Eressos & Mesotopos, Lesvos (Lesbos), Greece 🇬🇷
"Everything [is] my baby," Magdalini Vassila said as we entered her ceramic shop, Magdalini Ceramics Studio.
"Ceramics is not that you know, it's that you feel it." She would later say.
I was in the southern coastal village of Skala Eressos in Lesbos, Greece. Magdalini had just arrived back the evening before from Athens.
The vibrancy and density of her ceramics caught my attention as I perused her boutique a couple days earlier. Her assistant, Ioanna Tzanetou, (who would later become a contributor to the Ithaca Bound Languages project) who was attending the shop would arrange for the meeting upon her return to the island. Magdalini could speak and understand basic English, but Ioanna who previously studied in England, would translate our conversation as needed.
"Ceramics is like, the sky is the limit. You can do everything. From small things like jewellery to big things," Ioanna translated Magdalini's response to my question about why she chose to be a potter. "Ceramics can also be an art but also something useful."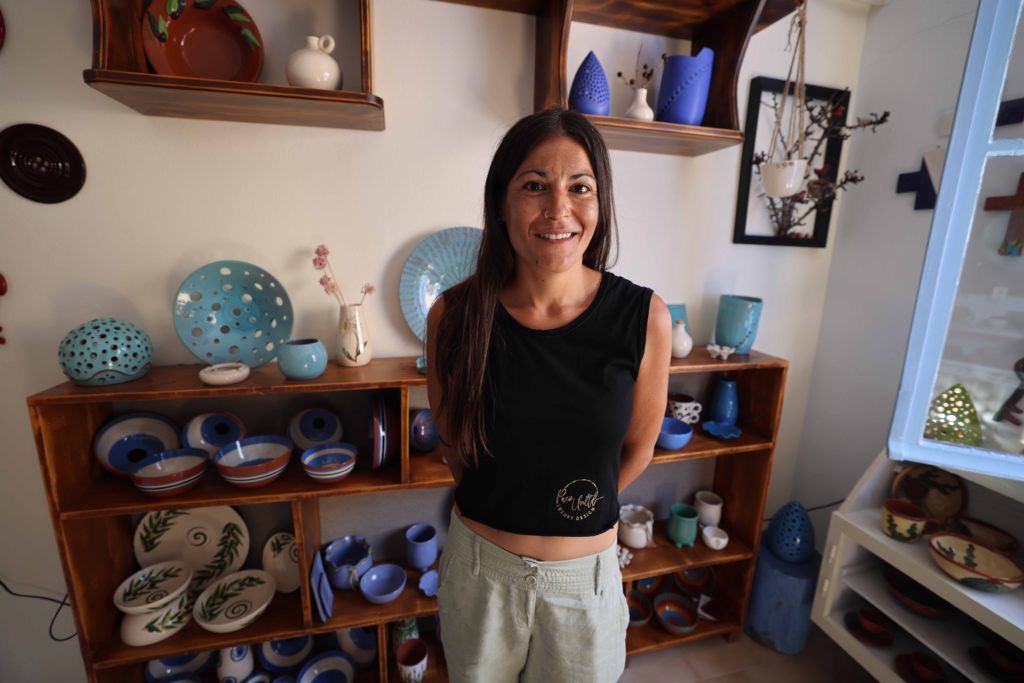 Magdalini Vassila in her ceramics boutique in the village of Skala Eressos in Lesbos, Greece.
Born in the nearby mountain village of Mesotopos, Magdalini trained to become a ceramist at the age of 18. She learned ceramics for three years from a "technical institute" (that is no longer in existence) in the island village of Agiasos, spent two years learning to make jewellery in the Pelloponese, and lived and worked in Athens for five years. The latter she worked in a job designing jewellery using CNC. She mentioned that she liked the job but wasn't fond of her experience living in Athens.
"If I didn't do this [pottery] I wouldn't know what to do." She would say at one point during the visit.
How the two met
There was an intuitive understanding and synergy between the two, Maghdalini and Ioanna, as we spoke. Ioanna would mostly attend to chores outside the shop such as sweeping road debris away and tidying products on display, but would quickly enter and exit the conversation, injecting translations as needed.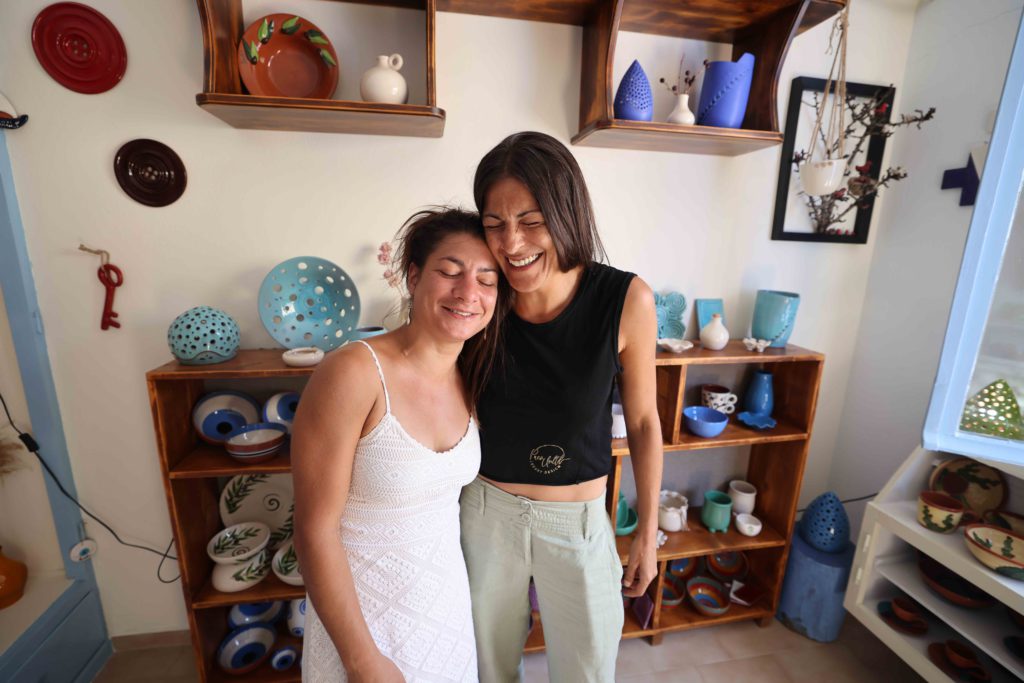 Close friends and colleagues, Ioanna Tzanetou (left) and Magdalini Vassila (right), naturally embrace during a photo session at their shop when photos were taken as part of this article.
The two met one day on the island in 2010. Ioanna was part of a gathering of female friends who were practicing pottery. One of the friends knew Magdalini, who was a professional ceramicist by this point, and invited Magdalini to the gathering to assist. The two met and have been friends since.
Born and raised in Lesbos' largest town, Mytilene, Ioanna received her Master's degree in international political economy in England and is working towards a second Master's degree in Lesvos: this one in sociology. She would later tell me that being around academia really connects with her and that she sees herself being involved with academia, to some degree, her entire life.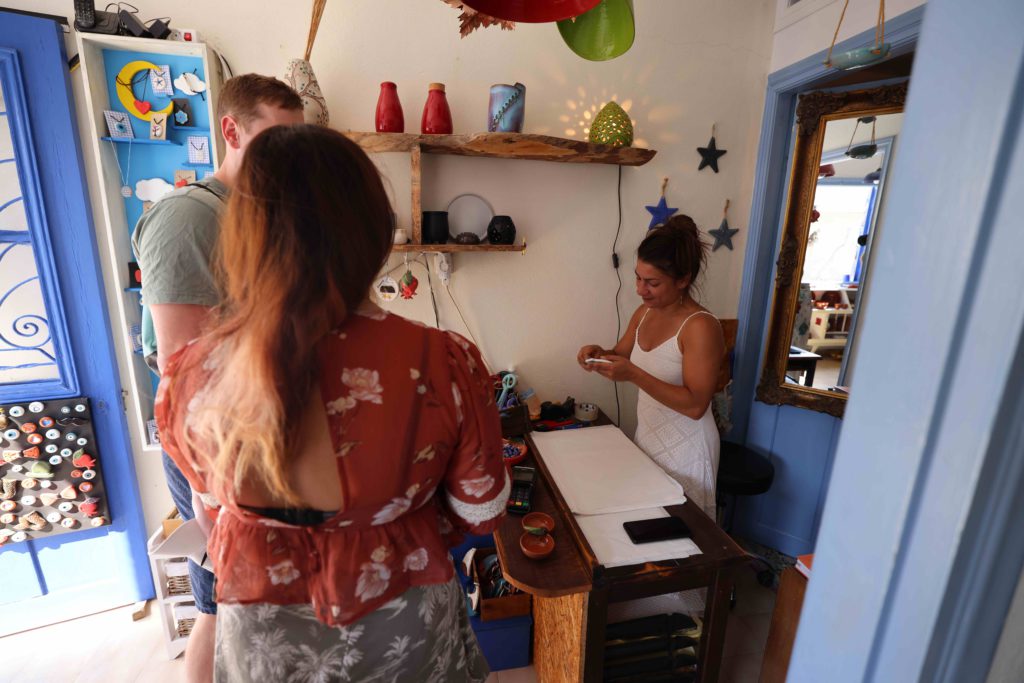 Ioanna Tzanetou processes a transaction for a British couple visiting Skala Eressos.
The shop & family life
Magdalini grew up with one sister, Litsa Vassila, who is married on the island with one child. Her father was a taxi driver and mother was a stay-at-home mom.
After I asked if Magdalini rented the boutique, she clarified that she owned it, with her family's support.
"The family despite not working with ceramics supported her financially. So they bought the place. They supported her financially." Ioanna said, translating her friend & colleague.
Magdalini then told a fun-spirited story about how the family, who is "traditional", had saved up money for an envisaged wedding and a family home for her and her future groom. But because Magdalini hadn't married by the given point, they used the money to buy the building in Skala Eressos (four years ago), where the boutique is situated today.
"Me, no baby, I'm free!" She would exclaim to me, mentioning that she doesn't have any dependents.
The question not asked
A couple days later I attended Magdalini's workshop—which she has had since 2009—in her home village of Mesotopos. The three of us—Magdalini, Ioanna and I talked about many things and many topics. On the topic of pottery, I would learn that she makes all the pottery moulds via self-illustration initially; that she uses two types of clay, depending on the project; and that, on average, she uses over one tonne of clay each year, which totals over one thousand ceramic pieces produced.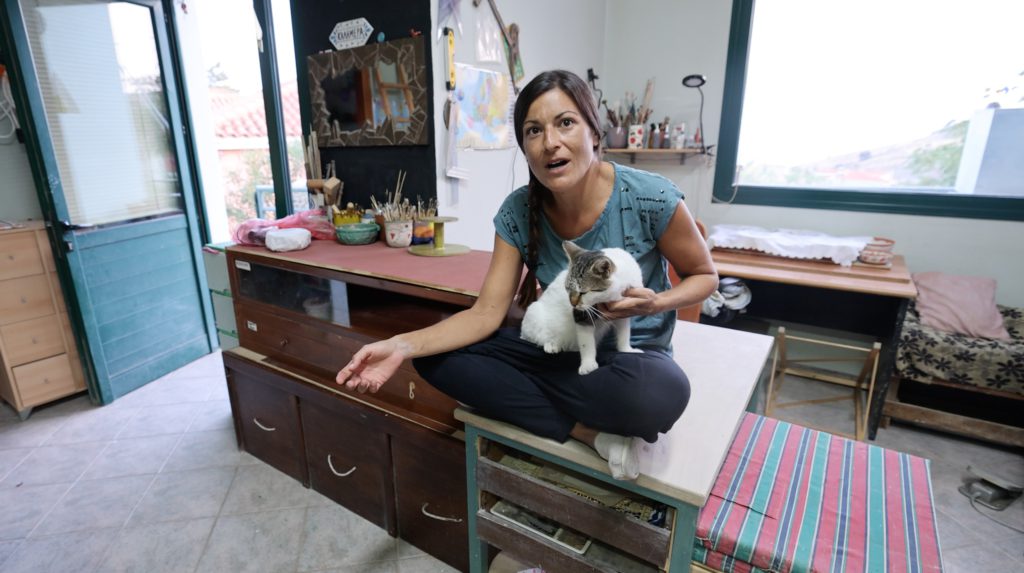 Magdalini in her workshop in the southern Lesbos village of Mesotopos. On her lap is her cat. She also has a dog who lives at her workshop too. "Inside here is her dream," Ioanna would say, translating her friend & colleague at one point in the conversation.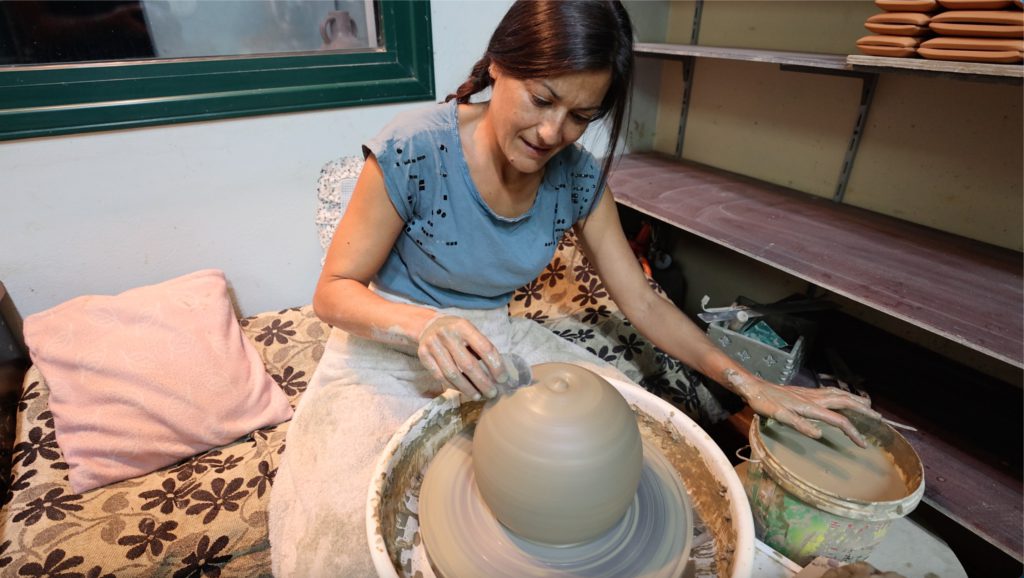 Magdalini throwing pottery on a potter's wheel in the mountain village of Mesotopos in southern Lesbos, Greece.
On the wheel, Magdalini made a ceramic pumpkin. "She doesn't care if there are some imperfections. Because it is a fruit. She likes the fruit to have a natural form." Ioanna would translate her friend and colleague as she crafted the ceramic pumpkin.
"As you give the pumpkin love it gets better." Magdalini would say as she focused on creating the piece.
A moment near the end of crafting the pumpkin occurred when Magdalini continued to work on the littlest facets on the furrowed lines on the sides of the pumpkin. I offered to take her photo with her holding the pumpkin as a way to mark and celebrate its completion. And on four occasions she nearly held up the pumpkin for the photo, but then either continued to work on it or set it back down. I was never able to take the photo.
"If you leave me [here] I will do this all night" She said. We all laughed.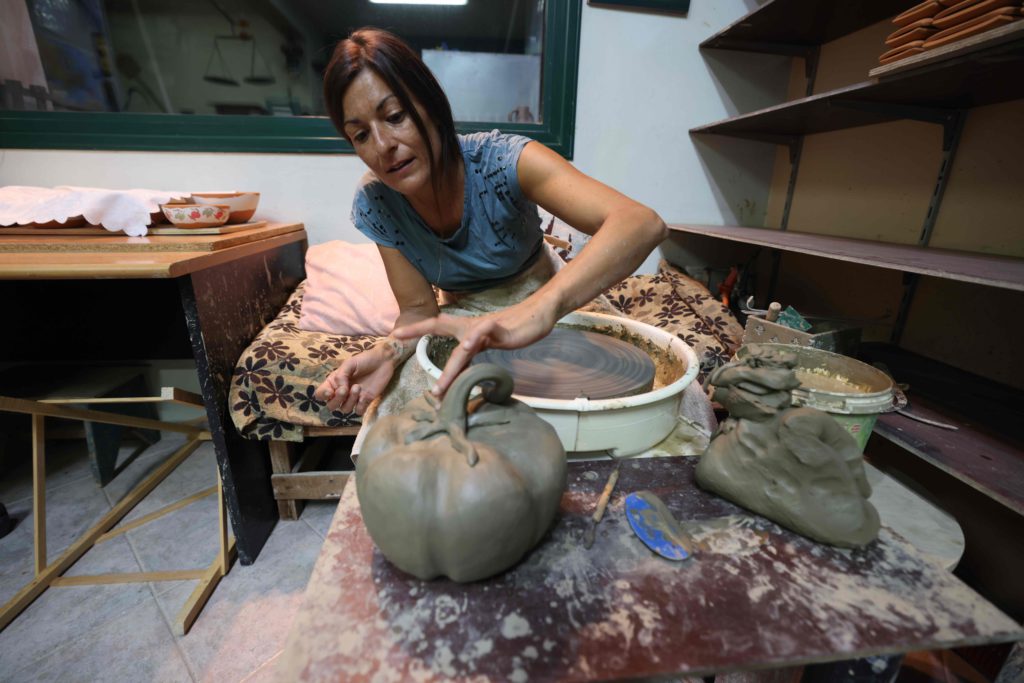 Magdalini demonstrates creating a ceramic in the shape of a pumpkin during Andrew Schiestel's visit to her workshop in the mountain village of Mesotopos in southern Lesvos, Greece.
After the meeting
The next day I reflected on the meeting. I wondered: This absolutely beautiful piece of pottery that Magdalini had created (and quite quickly too)—Why did she continue to work on it past what most would deem as complete? And why didn't she ever hold the piece up for a photo as a way to symbolize its completion? But I never asked: I had left Mesotopos by now and was on my way for the island of Crete.
In the mountain village of Mesotopos in Lesvos, a ceramicist is living her dreams, making custom pottery. Magdalini Vassila's work is available at Magdalini Ceramics Studio in the coastal village of Skala Eressos in southern Lesbos, Greece.