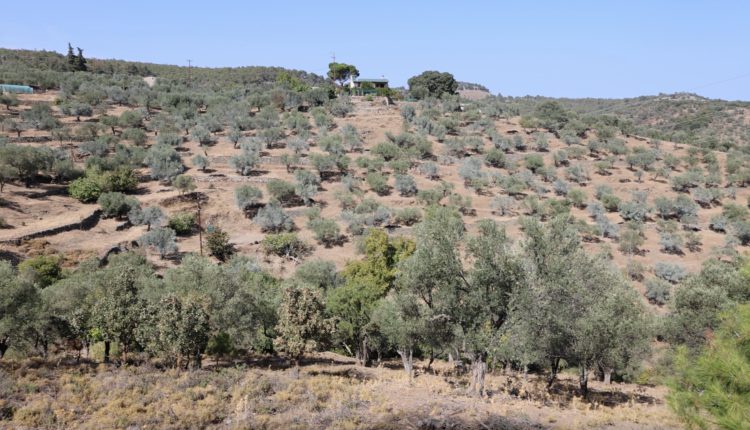 Making olive oil in the Lesbos mountains
Where: Komi, Lesvos (Lesbos), Greece 🇬🇷
Finding the Tzortzis olive orchards is a bit of a journey, in and of itself.
For me the journey started at the restaurant, Mezedopoleio 28, in Mytilene, the largest town on the Greek island of Lesvos. Leaving the restaurant having bought a 100ml bottle of Tzortzis olive orchards Extra Virgin Olive Oil (evoo) from restaurant owners, Adam & Kali, I tasted it. It was one of the best Greek olive oils I've ever tasted.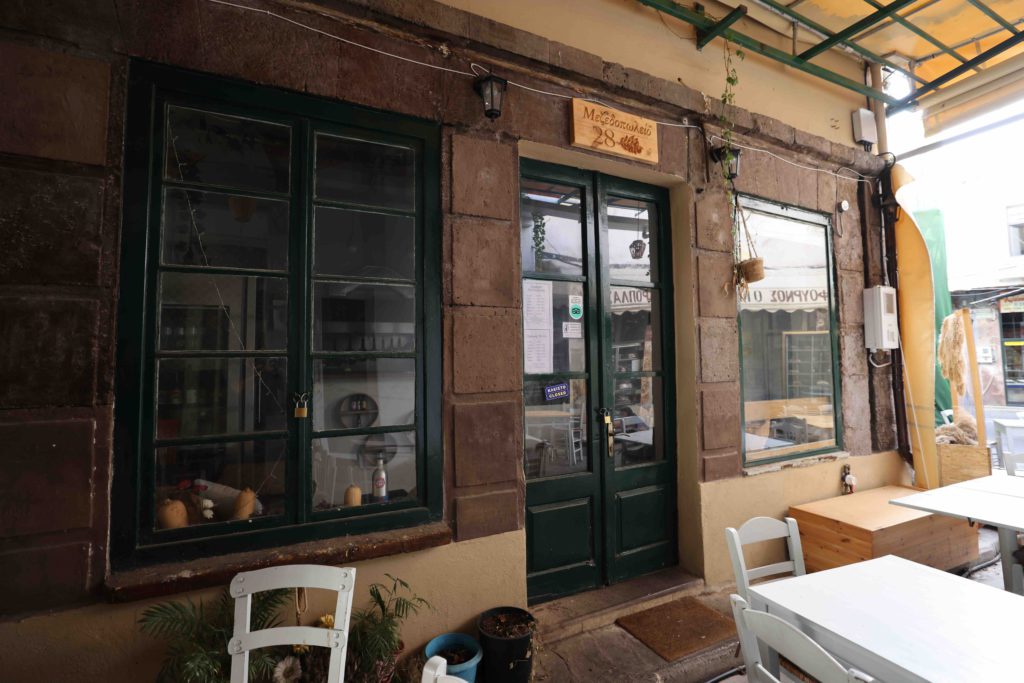 An after hours photo of Mytilene restaurant, Mezedopoleio 28. Andrew Schiestel bought his first bottle of Tzortzis olive orchards evoo at the restaurant on his first day arriving in Lesbos, Greece.
The married couple pointed me to the mountain village of Komi, about 40 minutes (by car) into the nearby mountain range. And so I made the trip.
—
"We [made] a club. We have 350 farmers who come here," Michalis Tzortzis told me as we toured his olive oil making company.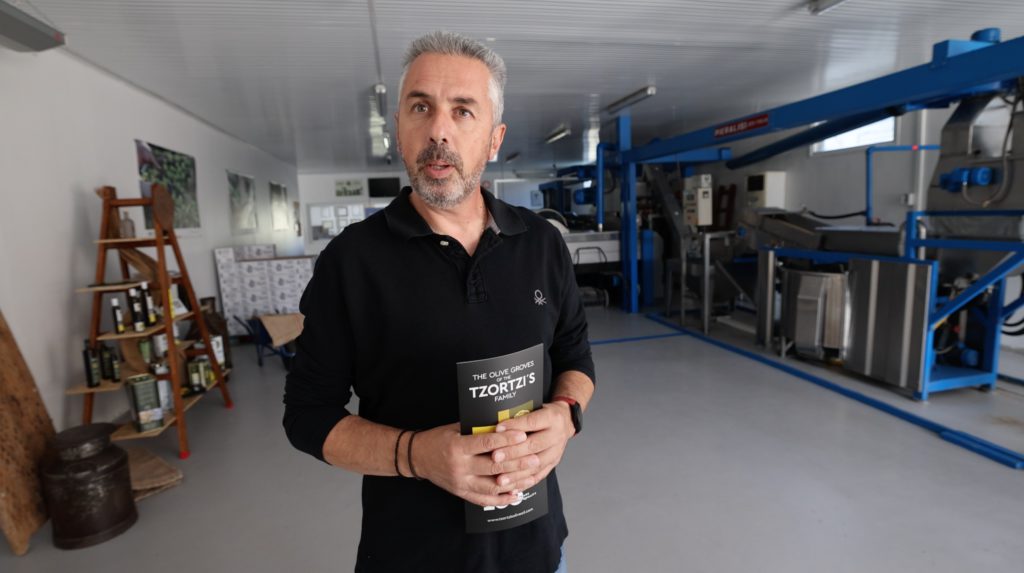 Fourth-generation owner of Tzortzis olive orchards, Michalis Tzortzis, speaks about the operations and evoo-producing volume at his company.
The company, Tzortzis olive orchards, personally holds 20 hectares of land with about 6,400 olive trees. As a company, in addition to producing their own olive oil each year, farmers from around the island sell their olives to Michalis' company who produces olive oil at their mill, bottles it, and sells it.
"It's about ten to twenty tonnes of olive oil per year," Michalis explained in referencing how much olive oil his company's 6,400 trees produce annually. And with the influx of farmers' selling their harvests to Michalis' company, Tzortzis olive orchards makes a total of around 150 tonnes of olive oil per year.
With the olive input each year, Michalis noted that the company makes Extra Virgin Olive Oil, Virgin Olive Oil, and Olive Oil, depending on market needs. The latter he noted isn't made for human consumption and is used in industrial settings. Most of the company's sales are through exporting, with it being noted that exports go to 20 European countries.
The quality
It was the quality of the Extra Virgin Olive Oil in that bottle that I bought in Mytilene that was one of the inspirations for making the trek into the mountains to visit Michalis and the orchard.
There were inferences, some more direct than others, that alluded to why the taste of the evoo that the company produces is so good.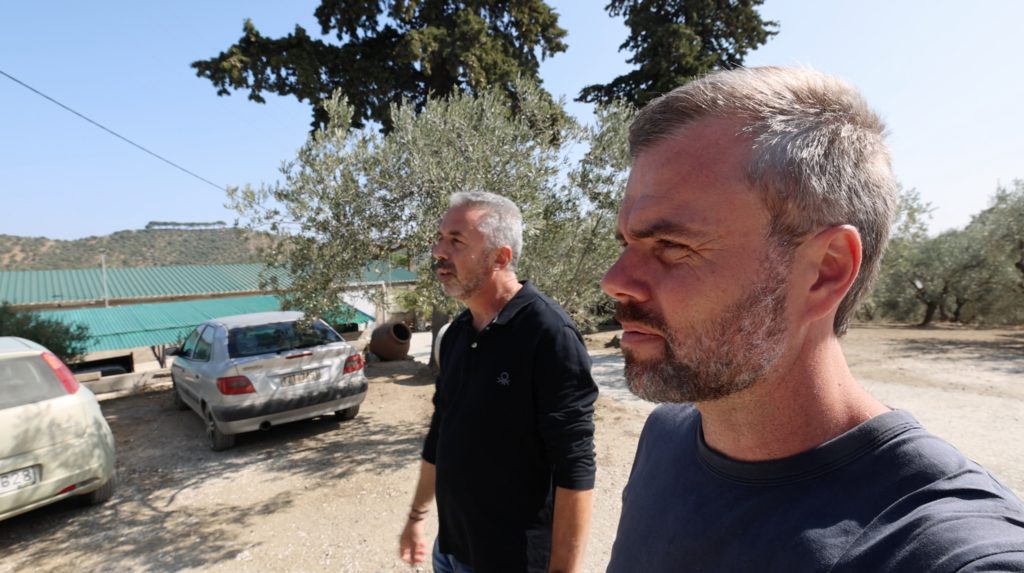 Michalis Tzortzis and Andrew Schiestel walk around the company's orchard. Tzortzis olive orchards consists of about 20 hectares of land and 6,400 olive trees. They also buy olives to make into olive oil from about 350 farmers on the island. (Lesvos, Greece)
The first was the time of the year in which the company harvests.
"When you collect early, you have a very strong taste. It's very bitter," Michalis told me as we began walking around outside.
It's this taste that he, and others, have described as more bitter, that many people, including myself, like. He went on to explain that there is more market demand for evoo used as gifts that's harvested early in the season.
A second factor raised as to the quality was the company's topography.
"This is the reason we have very good quality olive oil," Michalis said, pointing out an orchard being on a mountain can influence the taste of the olive oil. He stated that the orchard is situated on a hill that runs 200-300 metres above sea level. The way it has been explained to me before (from a Spanish farmer in the Córdoba mountains) is that trees on a mountain may get less water and experience more stress. And it's this stress that can produce more natural chemicals and influence the health benefits and taste.
With the elevation though comes more work, and likely more costs (at least in time) in producing evoo, "It's not easy for machines [to be used]" Michalis said, making the point that the company doesn't use much machinery during harvest because of the elevation of the terrain.
How the company started
The first piece of land in the family was purchased over 100 years ago by Stratos Tzortzis, Michalis' great grandfather.
First, Michalis' great-grandfather started as a worker (not an owner) on the land. This would have been during the Ottoman period.
"He [Stratos, Michalis' great-grandfather] wanted to start to buy some trees." Michalis recited how it happened. "And after he bought a lot of trees. And after, my grandfather started to buy land. He worked [a lot]. When he collected Dragmas (the Greek currency before the Euro), he start to buy [more] trees."
Following Greek tradition of children being named after the associated grandparent, Michalis' great-grandfather's name was Stratos, his grandfather's name was Michail, and his father's name was Stratos.
The family today
Michalis Tzortzis is the principal family member operating the company. He is married to Nafsika Anagnostou. (For those familiar with Homer's Odyssey, Nafsika is a name that carries a lot of relevance—something that Michalis pointed out to me too during the visit) The couple have two daughters, Amalia & Adamantia. Amalia is studying in university in Thessaloniki and Adamantia is in high school.
Michalis also has a sister, Vatoula Zacharias. Vatoula doesn't have an ownership or operational role in the olive making company. She lives with her husband on the island of Kos, Greece, owning and operating a "group of hotels" there.
Michalis, classically trained as a mechanical engineer, lived in Athens for seven years and worked at two different companies before making the personal decision to return to the family's land and begin working with his father in the business.
I asked the proverbial question of a multiple generation company with children, "Your natural aspirations is for it [the company] to stay in the family?"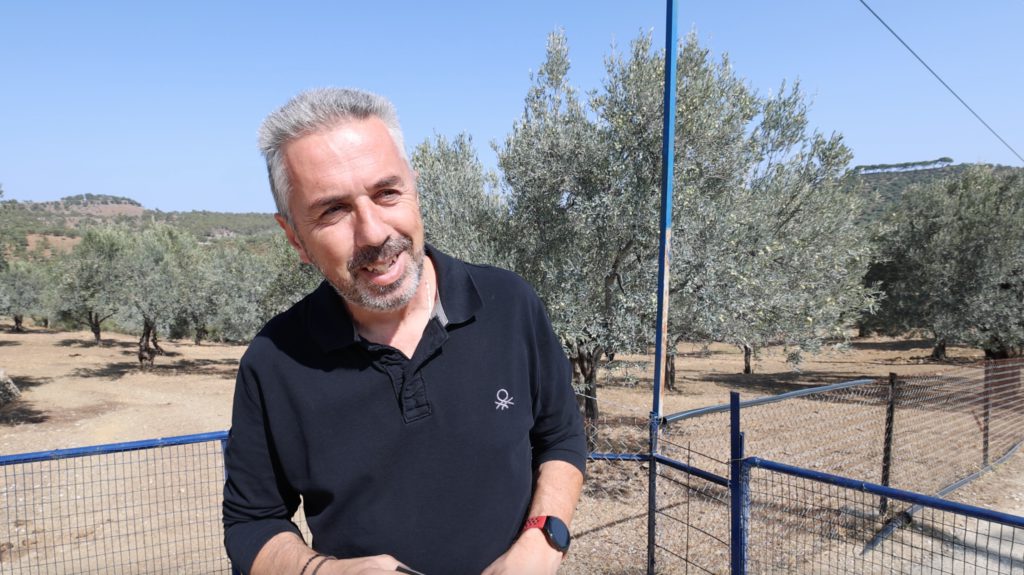 Michalis Tzortzis, proprietor at Tzortzis olive orchards, speaks about his two daughters.
Although Michalis made it clear, through expression and words, that it would make him happy if this occurred, he was adamant—an approach consistent with his own decisions—that that such choices were that of his children.
"If they come back, it's okay for me and my wife, and they have a job for a lot of year[s]" His words were warm as he spoke of his children. "But, if they want to go in another place, another town, or another country, okay. It's necessary to fly."
The passing of his father
On the topic of his father, one of the first things he brought up to me when I arrived was that his father, Stratos Tzortzis, had just passed away. So during the visit, the Michalis' family would likely have been still in a period of grieving and attending to estate administrative duties.
During the visit, his father, who it was clear Michalis held a lot of respect and love for, came up again, and Michalis shared more.
"Here, he want[ed] to die here," Michalis told me. He then pointed to his father's previous home at the top of the ridge. "He said 'I want open windows.'
…if I lose my life, I want to see trees, olive trees." Michalis went on sharing the final wishes of his father.
The family saw that Stratos' wishes were honoured.
—
About a 40-minute drive from Mytilene in Lesvos, Greece, in the mountain village of Komi, is home to the Tzortzis family, hard at work harvesting their olive trees and that of 350 farmers on the island of Lesvos, Greece, under the name of Tzortzis olive orchards.