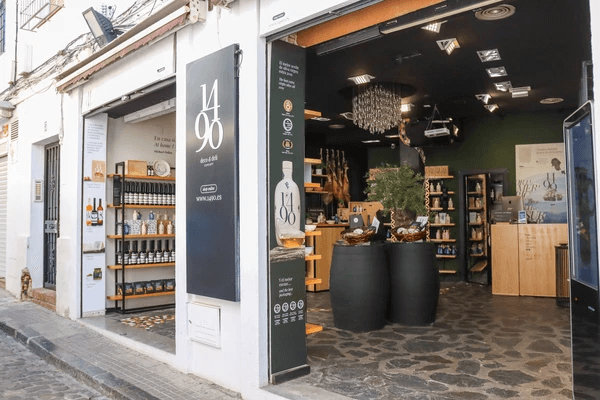 History in a Bottle – The Story of 1490
Where: Córdoba, Andalusia, Spain
"The Order supplied fruits, wine and olive oil to the three ships," Jose Miguel Sánchez de Puerta said to me as we stood in his tienda (shop), called 1490, located in Córdoba, Spain.
The three ships Jose Miguel was referring to was the expedition that Christopher Columbus and his crew took in 1492 that discovered North America; and he believes that the olive oil supplied on the voyage was sourced from his family's olivo farm.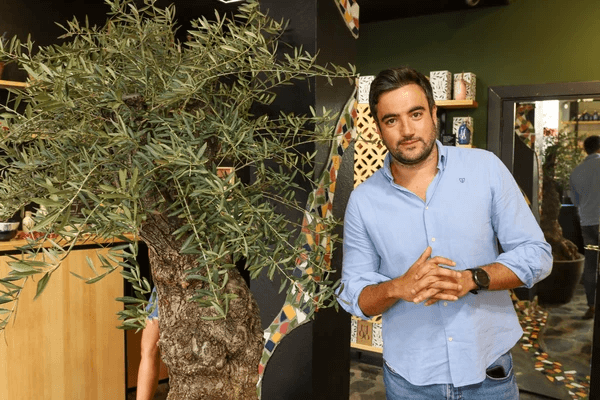 Jose Miguel, a co-founder of 1490, standing beside an over one-hundred year old olivo (olive tree).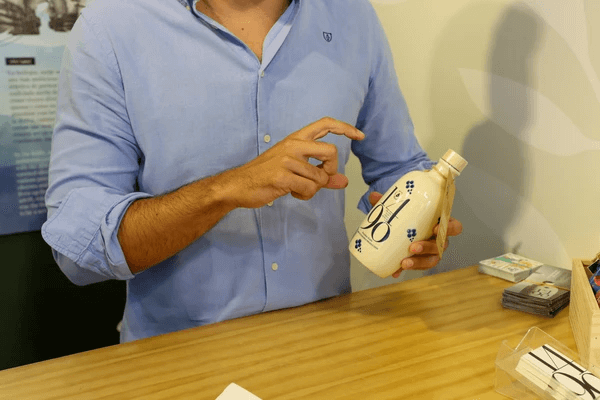 The story first fused for Jose Miguel when he found a letter dated 1490 in his grandfather's office in La Rambla, Andalusia, that described a trading relationship between the Order of Calatrava and his family's olivo farm, Fuenta de la Rosa. The Order of Calatrava was one of four military orders ever created in Spain and the first of the Castille government.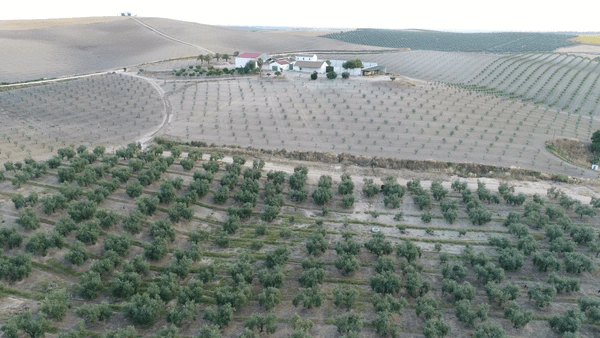 A photo Jose Miguel provided us of his family's 150-acre olivo farm, the Fuente de la Rosa. The farm primarily harvests Hojiblanca, Picual, Alberquina and Ocal cultivars.
Through further research, he would learn that the Order supplied goods to the three ships that made the historically seismic voyage: the Santa María, the Niña, and the Pinta.
"The legend tell[s] us that the olive oil carried in the expedition was from Fuente de la Rosa." He would later write to me as I gathered more information.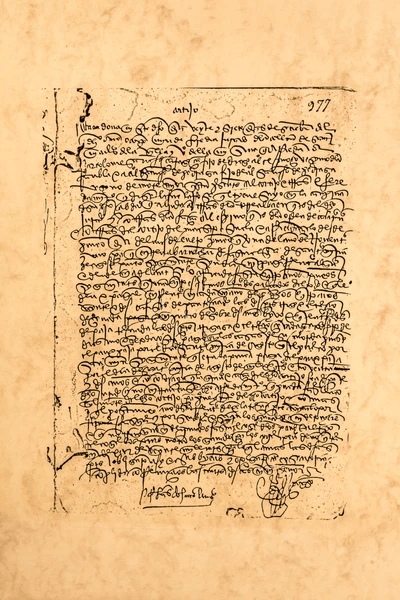 Above is a copy of the original letter, dated 1490, that Jose Miguel discovered in his grandfather's office.
Raised in the town of La Rambla, a 40-minute drive south of Córdoba, Jose Miguel was educated in business management. He founded 1490 with a business partner that specializes in "graphic design and creative." The two built the flagship store in Córdoba and have since opened a second tienda in Madrid.
"We're looking for the little treasures," Jose Miguel said to me. "Farmers who have good products but can't market them themselves."
1490 started with an initial olive oil product called Frasca Galera. It's a blend of the Hojiblanca, Picual and Picuda cultivars, packaged aesthetically in a beige porcelain bottle with dots of blue markings to symbolize olives.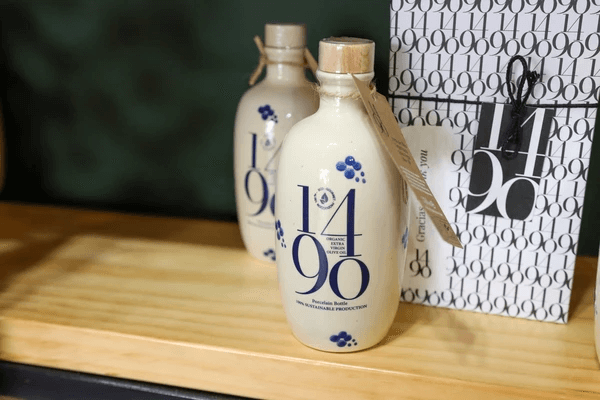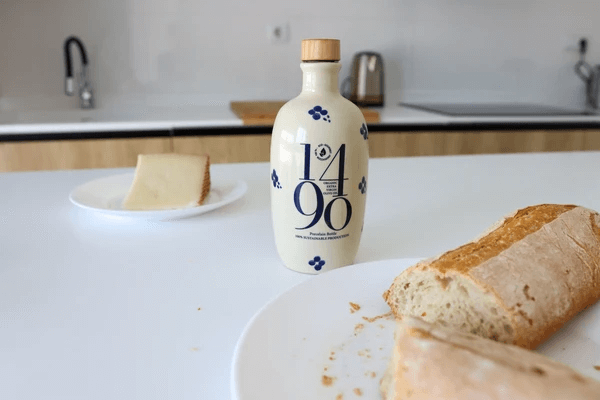 Above is a photo I took of a 1490 bottle of olive oil while visiting Cartegena, Murcia, Spain.
In addition to offering other olive oils of various cultivars, the company has also expanded into further product lines: aceituna (table olives), vieno (wine), queso (cheese), embuditos (deli meats) and cerámica (ceramics). And it's unlikely that they'll stop there.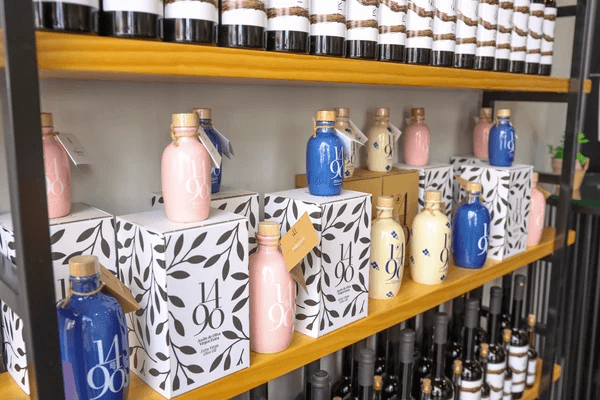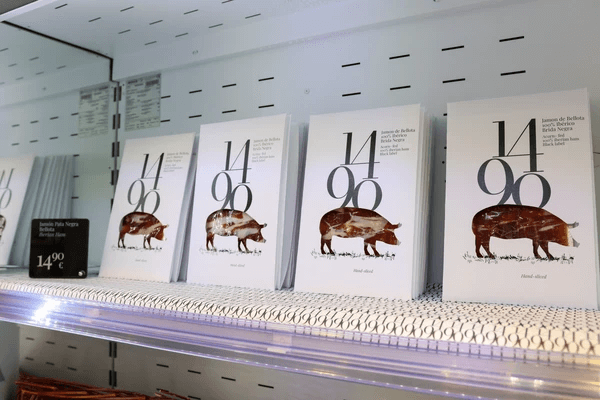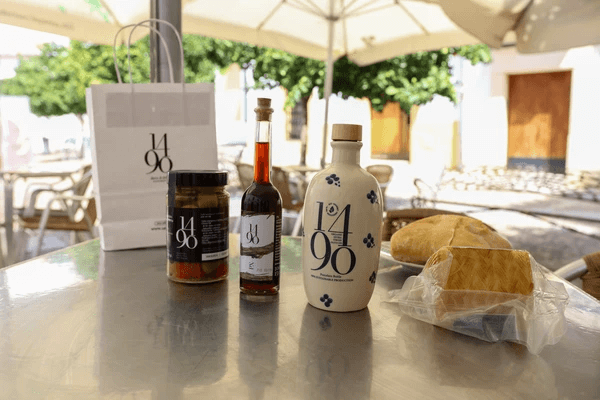 Above is an assortment of 1490 products on a patio table in Córdoba.
Although entrepreneurial-minded, there was a sweet and traditional side to Jose Miguel. When taking some photos of him and 1490's store clerk, María, I learned the two had known each other since childhood.
"Our parents are friends," Jose Miguel said.
"He likely saw me when I was born," María giggled. "But he was much smaller back then!"
The two blushed and had a big laugh together.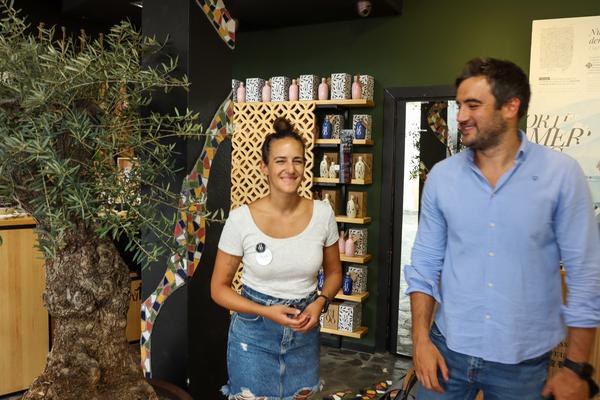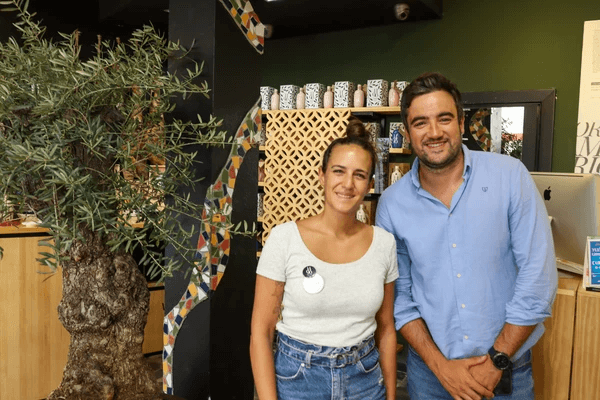 Córdoba is one of Spain's most documented historical cities: At one point the second most populated city in all of Europe, it was formerly the capital of the Roman Empire's Province of Hispania Baetica, and has been ruled by a manifold of factions over millenia—some including the Umayyed (Arabs), Romans, and present-day Spanish—each leaving their mark on the city.
And on a scenic calle (street) in old downtown Córdoba lies a store with its own unique history named 1490 that's looking to leave its own indelible mark on the world.