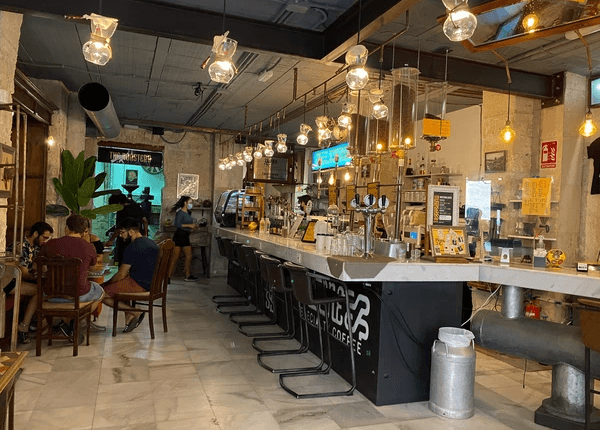 Roasted on the Coast of Spain — Madness Specialty Coffee
Where: Alicante, Spain
When I walked by the café the day before in Alicante, Spain, I sensed it was special. For starters, Madness Speciality Coffee was the first roasted coffee maker I had come across while in Spain for an entire month.
The Spanish are coffee drinkers but in almost all cafes, coffee is provided by larger domestic incumbent roasters or imported from Portugal or Italy.
The next day, Saturday, I stopped by Madness Coffee again to taste an Americano and experience the café.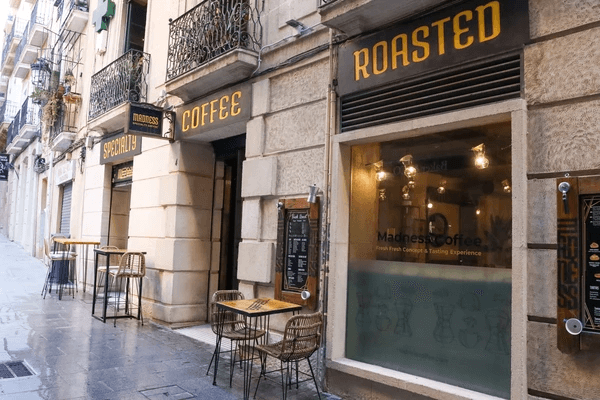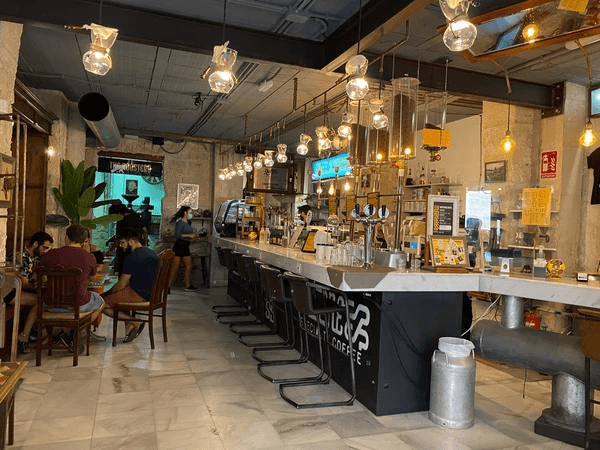 A photo Andrew took on Sunday when returning for more photos.
The café had an open, bohemian, and gastronomical feel to it. A friendly, shorter woman walked around to the front of the bar when I entered and gave me a warm and friendly greeting.
"Puedo tener una Café Americano? ('Can I have an Americano?')" I asked her practicing my Spanish.
"Would you like it strong?" She asked.
"Yes, strong." I replied.
I sat down at a table outside with my dog, Trevor.
Within minutes a second server brought out an espresso shot poured into a coffee cup and a kettle of hot water. Next, when she knew I was looking she poured the hot water into the cup of espresso constructing the Americano before my eyes. The experience was akin to watching a server flame a plate of food or a bartender flame a drink in front—It was the extra artisanal touch. The presentation completed with the cup of coffee on a wooden and steel tray along with a tiny cinnamon cookie to pair the coffee.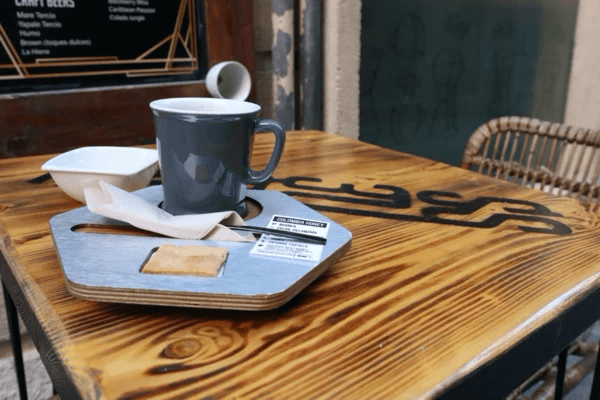 Enjoying the Spain-roasted brewed coffee, I pondered how to reach the owner to discuss an article interview and importing their coffee, when a man in his mid-forties walked briskly by me and gave me a generous smile.
"Hola," He said.
"Hola, Hello," I responded with a smile.
He walked into the café at a pace that signified that he wasn't a typical customer. Two minutes later he returned with a bowl of agua (water) for Trevor and we struck up a conversation.
Sometimes when you ask for it, it arrives—as it turned out, this was the owner of the café.
Jose Manuel Bernal Palma started Madness Coffee two years ago. He personally travels to places like Ethiopia, Brazil and Colombia to source the coffee beans that Madness Coffee roasts.
"I source the beans directly from the farmers," Jose said to me. "Sourcing it can be more expensive. Some of it comes from high altitude places in Colombia."
Jose Manual explained that the higher the altitude where the beans are harvested, the more expensive they often are.
"This is the theatre room." He said to me as we turned a slight corner during a tour. I didn't understand the moniker at first but then it dawned on me—The collection of seats under the stairs is another room that the café offers where friends can gather over coffee and conversation. The chairs were former theatre seats refurbished and finished with coffee bean sacks sewn to them. The room was naturally very dark; just like a Theatre!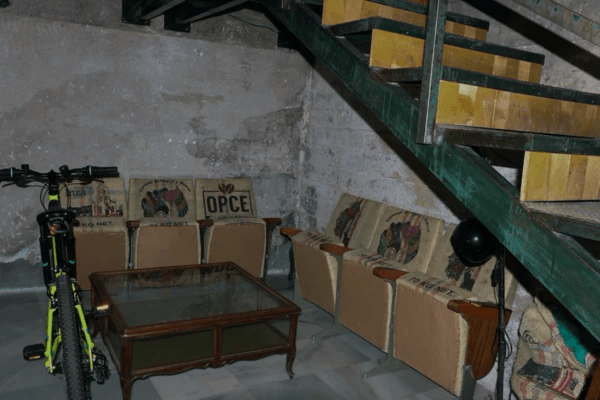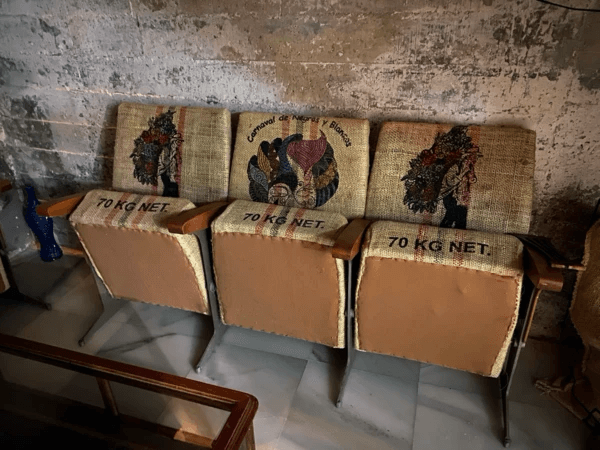 You may think it unorthodox for a washroom to be part of a tour, but not at Madness Coffee. One of the washrooms hosts a former espresso machine that was re-engineered into a sink. Tap a pedal near the floor and out comes water from the spout.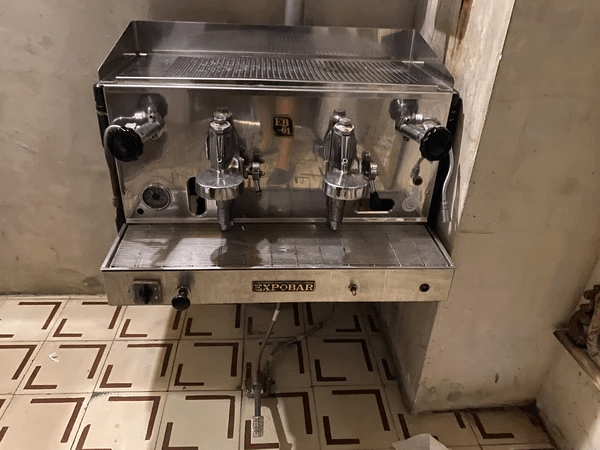 The roasting machine was onsite. Jose grabbed a bucket of roast that he was proud of and encouraged me to smell it.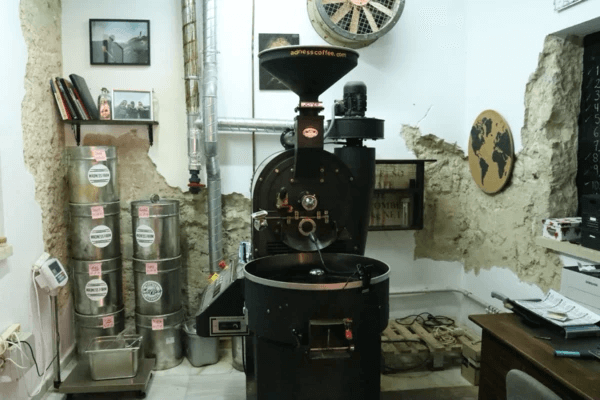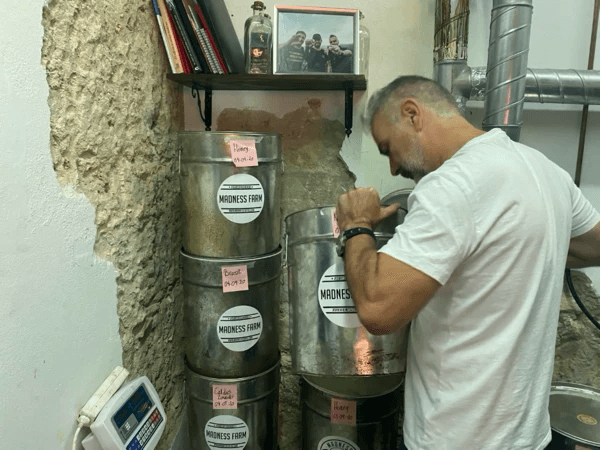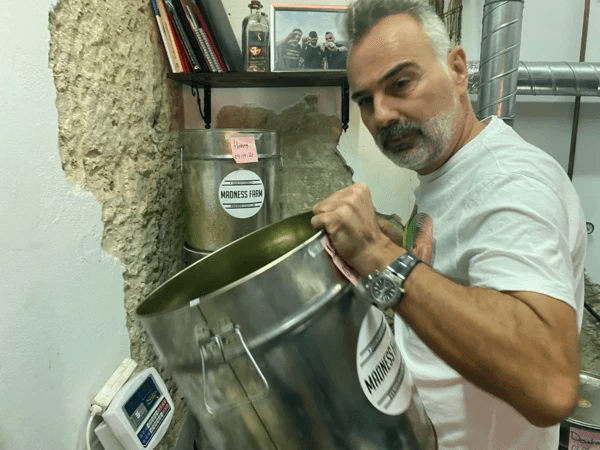 On the second floor of the café, Jose Manual showed me what he called the "Laboratory" where meetings and official tastings convene. It consisted of a boardroom table, a flavour wheel map to assist tasters with their pallets, different collections of coffee beans, a white board to jot notes during meetings, and an array of other knickknacks.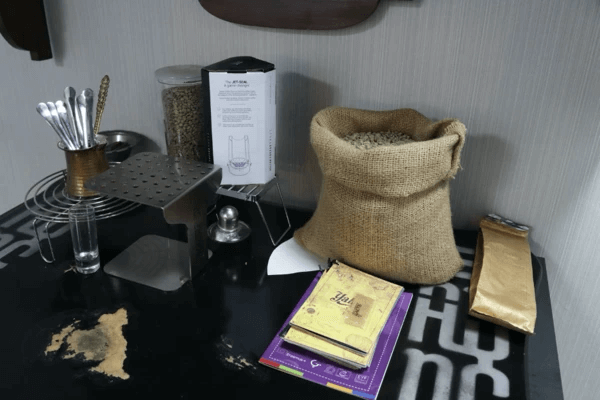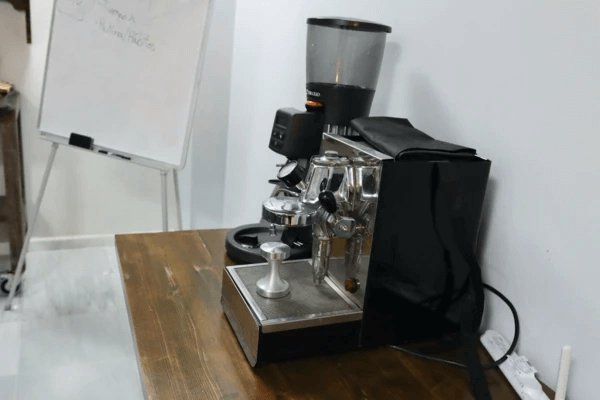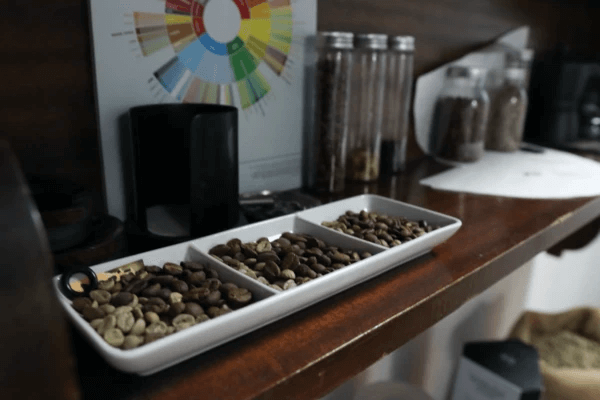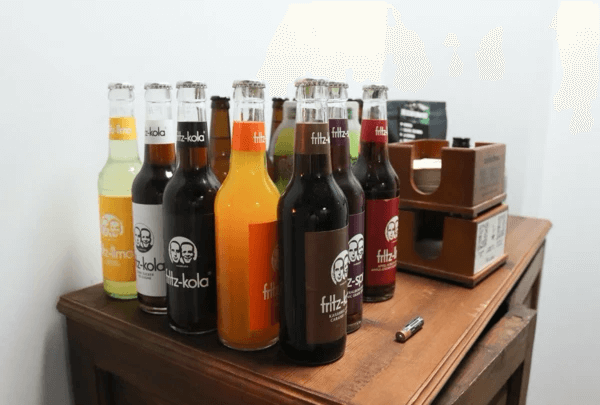 When we were sorting out what my second Americano that day would be, Jose Manual explained to me that a Brazilian blend wasn't ready yet. I sensed his disappointment that I wouldn't be able to try his newest concoction.
"It's a passion." Jose Manual said to me.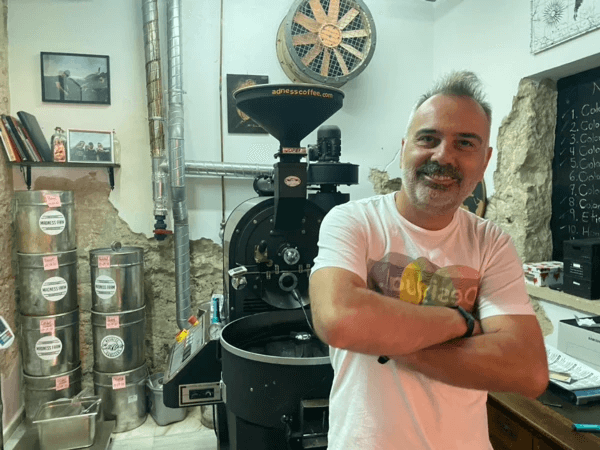 Jose Manual standing in front of his roaster in Alicante.
With a total of three locations in Alicante, Benidorm and Barcelona, Madness Coffee certainly is a passion. It is the expression of a man's life passion blossomed to life. Sourcing their beans globally and roasting them along the coast in Spain, Madness Specialty Coffee awaits you.