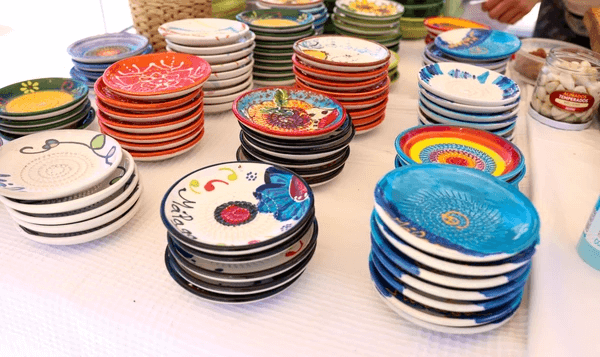 The Flare of Spain on a Plate — Alfar Tierra Cocida
Southeast of Málaga's Centro lies the Muelle Uno. Situated on a pier, the Muelle Uno presents a courteous blend of patio restaurants, retail outlets and a beautiful view of Málaga's port. On the pier most Sundays, tables are hoisted, and umbrellas erected with merchants selling wares from artwork, apparel, cookware and more.
It was the colourful and well-stocked mosaic of items that one merchant had on her table that caught my eye; I walked over.
"Hola, Hello" I greeted the merchant.
"Hello," She responded in a friendly manner. "They are ceramic bowls and plates for grating food—each handmade here in Málaga."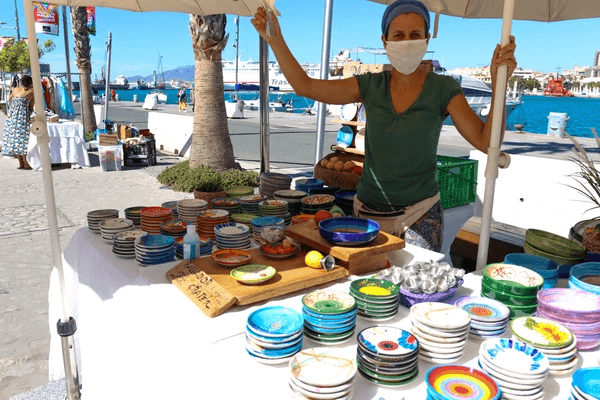 The bowls are, simply put, enjoyable to look at. Their patterns, each one different from the next, have a, 'These a made in Spanish paradise,' flare to them.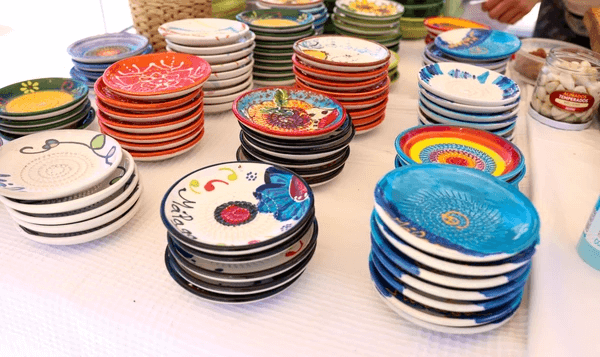 As it turns out, the merchant, Verónica Vázquez Prieto, runs the company Alfar Tierra Cocida with her husband, Manuel Vázquez Prieto.
"We've been selling ceramics for two years," She told me. "My husband has been a potter much longer than that. He used to instruct others. But now we run this business."
"Tierra means Earth and Cocida means cooked," She proudly explained to me.
The reason for the name is that an essential part of the process for making ceramic bowls is essentially cooking clay and then letting it cool off to take its final form.
The business has something going for it. Between chatting with Verónica and taking photos, over the course of about 25 minutes, she made four or five transactions with about fifty percent of pedestrians purchasing.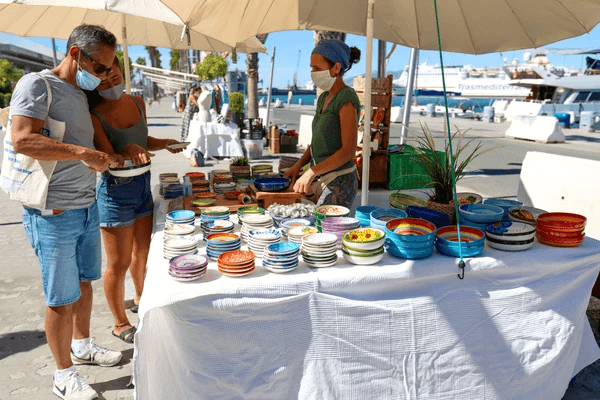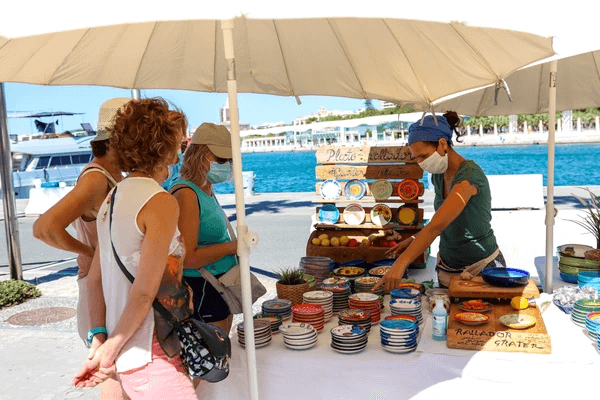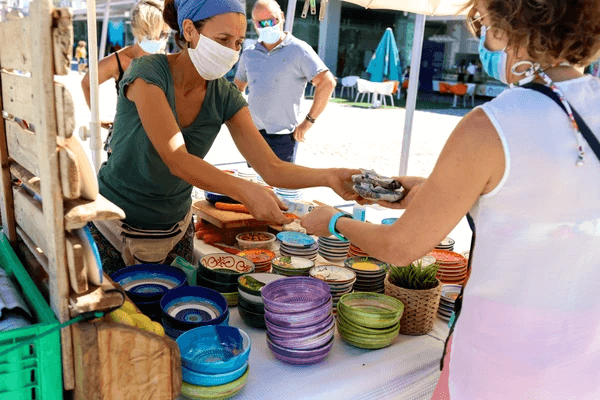 Verónica explained to me that ceramic products are extremely common in Spain, especially in Sevilla.
"My husband is from Sevilla," She told me tying the connection together.
At one point in Verónica's life, she spent a year in Vancouver, Canada. "What's not to love there?" she said to me. She lit up as she talked about Canada, clearly fond of her time and its people.
She would eventually tire of travelling and return home to Málaga. The couple Verónica and Manuel—ended up first meeting at a wedding.
She could only give me her email as a way to keep in touch. She said with a laugh, "My husband doesn't have email. He's against technology!"
The two live in the mountains north of Málaga. There, Manuel builds the products and they host customers for half or one day rejuvenation retreats where guests can learn a bit of pottery, perform yoga, hang out by a pool, and relax.
As you might imagine, Manual is the artist and crafter and Verónica runs the operations and marketing.
The company also has a small physical shop (a tienda) setup at the northeastern edge of the Muelle Uno.
She cited some of the whereabouts of friends she has in Canada; friends in Quebec and New Brunswick came to mind. She explained she wasn't in touch with them much lately though because of COVID-19.
"I'm worried about COVID-19 and its effects," She said. "Nowhere close to the normal numbers of tourists. You will see many businesses in Málaga disappear. Many can last a couple months but can they go a year like this?"
In talking more about their products Verónica said, "People already have everything they need. These products give them something different though. They are useful and don't require electricity."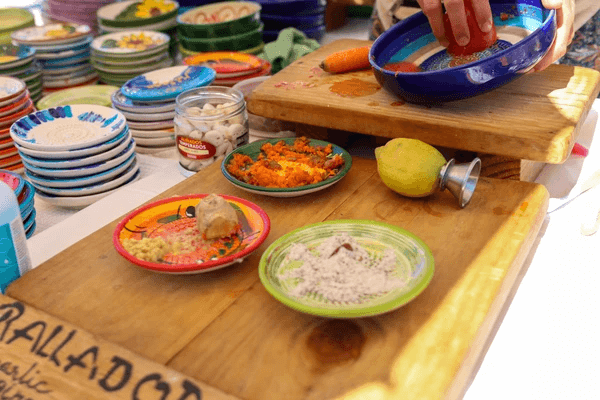 Symbolically, Alfar Tierra Cocida represents a simpler yet practical life. Inspired by Manuel's aberration to technology, their products give customers a moment of respite from the fervor of technology and provides an access to live more peacefully and closer to nature.